Dutch Dressage News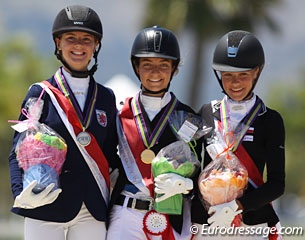 The Dutch equestrian federation has announced that it will launch a Children's pilot project to test if there is a demand in The Netherlands for the young dressage riders to compete in the FEI Children's division.
The 2017 European Children's Championships will be held in Roosendaal, The Netherlands this year co-inciding with the European Junior and Young Riders Championships. Because they are hosted on Dutch soil, the KNHS wants to look into the possibilities of sending a team.
The inaugural European Children's Championships were held in Vidauban, France, in 2015, where the Swiss team won. The Children's division for 12 to 14 year old children competing on oversized ponies or horses at L-level. 
The Children's division has given an incredible boost to the popularity dressage especially in developing dressage countries such as Spain and Russia, where pony dressage is almost non-existant. At the 2016 European Children's Championships, the Russian team won.
Initially the German and Dutch federation refrained from fielding a team in order not to debilitate the chances for developing countries to bloom and succeed in this new age category. For 2017 the cards seem to be changed and Holland wants to throw itself into the mix.
A Dutch national pilot project has been started with a competition in Vragender on 18 March 2017 and Exloo on 7 May 2017, where it will be seen whether Holland can field a team for Roosendaal.
Photo © Astrid Appels
Related Links
Anna Guseynova Wins Individual Gold at the 2016 European Children Championships
Russia Wins Team Gold at 2016 European Children Championships
Germany Not Fielding Team to 2016 European Children's Championships
Four Time Gold for Germany at 2015 European Children, Junior, Young Riders Championships