2017 New Zealand Young Horse Championships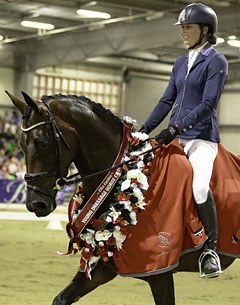 The 4-year old Stoneylea Welt Princess, the 5-year old HP Fresco, and the 6-year old River Park Luciana became the winners of the 2017 New Zealand Young Horse Championships held during the Nationals and Pacific League World Cup Final at the 2017 CDI-W Feilding on 1 - 4 February 2017. Stoneylea Welt Princess went on to win the champions of champions title in special young horse final.
The 31-year old international eventing rider Zoie Gray steered Stoneylea Welt Princess to a triple victory. The pair won the first and second round in the 4-year old division with 78.4 and 77.0 points. Welt Princess is by Weltmeyer out of the imported elite mare Lusenka (by Lauries Crusador xx x Lemon Park) and is bred by Angela and John Smith. The pair twice referred Grand Prix rider Wendi Williamson to a second place on the Hanoverian bred Ruby Tuesday T (by Royal Classic x Don Frederico).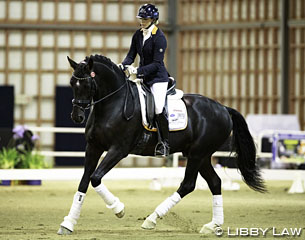 In the 5-year old division the victory went to Holly Leach on the Australian bred HP Fresco (by Fackeltanz x Lander x Richmeed Medallion) who earned their title thanks to the big lead they built up in the first round, in which they scored 74.60 points. Four five year olds contested the first round, but only two competed in the second round. This was won by Ellen Mitchell aboard Donnerstar CD (by Donnerubin x Gymnastic Star) with 69.8 ahead of Leach and HP Fresco. However, the latter's overall total was higher and they claimed highest honour.
Only two 6-year olds competed in their age category and Robyn Coupe and the unregistered mare River Park Luciana (by Vollrath Lessing x Anamour x Wohler), bred by Renai Hart, bagged the overall win. They were second in the first round with 69.60 points and won round two with 69.60 points. Former young rider Kate Tobin won the first round on the Australian bred Bradgate Riot Act (by Rotspon x Don Primero) with 71.2 but dropped to 66.20 points in round two.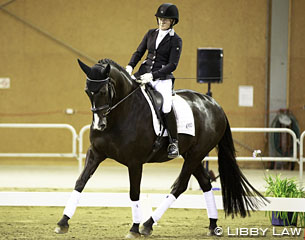 In the champions of champions round, judged by Helen Hughes Keen (NZL, 4*) and Katrina Wüst (GER, 5*), Zoie Gaye and Stoneylea Welt Princess beat the 5- and 6-year old champions. 
Photos © Libby Law
Results - 2017 New Zealand Young Horse Championships 
4-year olds - Round 1
1. Stoneylea Welt Princess - Zoie Gray - 78.4
2. Ruby Tuesday T - Wendi Williamson - 74
3. Aroha MH - Hannah Burden - 72.4
Revelwood Odyssey - Tanya Price - RET
4-year olds - Round 2
1. Stoneylea Welt Princess - Zoie Gray -  77
2. Ruby Tuesday T - Wendi Williamson - 73.8
3. Aroha MH - Hannah Burden - 71.9
5-year olds - Round 1
1. HP Fresco - Holly Leach - 74.6
2. Wisdom WDS - Kieryn Walton - 68.6
3. Donnerstar CDS - Ellen Mitchell - 67.2
Hells Bells - Sophie Griffith - RET
5-year olds - Round 2
1. Donnerstar CDS - Ellen Mitchell - 69.8
2. HP Fresco - Holly Leach - 68.5
6-year olds - Round 1
1. Bradgate Riot Act - Kate Tobin - 71.2
2. River Park Luciana - Robyn Coupe - 68.5
6-year olds - Round 2
1. River Park Luciana - Robyn Coupe - 69.6
2. Bradgate Riot Act - Kate Tobin - 66.2
Photos © Libby Law Photography
Related Links
Sartorial Hit SW, Glamorgan By Design, Leo Donna Win 2016 New Zealand Young Horse Championships
Siriana SW, Decadence MH, Belladonna MH Win 2015 New Zealand Young Horse Championships
New Zealand Judges on Young Dressage Horse Training Trip in Pursuit of Knowledge