German Dressage News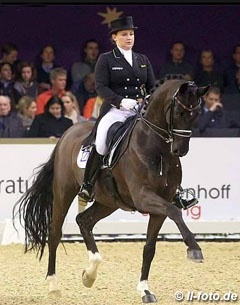 Four new recipients of a training grant sponsored by the Deutsche Bank Equestrian Sport Academy have been announced at the 2016 CDI Frankfurt on Sunday 18 December 2016.
Deutsche Bank Equestrian Sport Academy was founded one year ago and had 10 grant recipients in its first year. The goal of project, sponsored by Deutsche Bank, is to help high performance riders on their way to sportive and professional success. Grant recipients will get individual training, access to selected shows in Germany and coaching by mentors of the Deutsche Bank for the development of their professional dressage career. The best performing grant recipient will obtain a starting place at the 2016 CDIO Aachen in July.
Each year the Academy supports 10 dressage riders for one year. The grant recipients are selected by the German Equestrian Federation from the participants in the Piaff Forderpreis (U25) and Louisdor Cup (Developing GP).
For 2017 four new riders have been announced: the newcomers to the Academy are Lisa-Maria Klössinger (23), Charlotte Rumenigge (25), Franziska Stieglmaier (24) and Ursula Wagner (38). The other recipients, who were already submitted to the 2016 list, are Kathleen Keller, Florine Kienbaum, Victoria Michalke, Juliette Piotrowski, Sanneke Rothenberger and Charlott-Maria Schürmann. 
The four who have lost their grants but who will stay "connected to the Academy as alumni" are Annabel Frenzen, Nadine Husenbeth, Hendrik Lochthowe, and Svenja Peper. They will continue to have a tutor for help  and remain active in the project.
Related Link
Ten Dressage Riders Receive Deutsche Bank Equestrian Sport Academy Grant