FEI Dressage News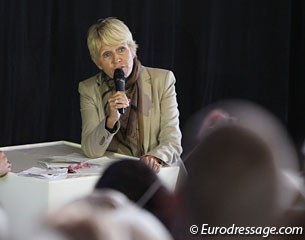 At the 2016 CDI-W Odense Katrina Wüst's Degree of Difficulty (DoD) Freestyle Judging System was officially applied for the first time in a European based competition.
Wüst has been working on the DOD Freestyle Judging System for more than eight years and first presented her plan to the public at the 2009 Global Dressage Forum. With the help of programmer Daniel Göhlen and a test trial at the 2015 CDI Fritzens, the DOD system is now in place. It was first used in North America at the 2016 CDI 4 Omaha and now the FEI will officially use it in the Western European League World Cup events after which an evaluation will follow.
The Degree of Difficulty Freestyle Judging System entails that riders have to insert their Kur choreography into an FEI database before the shows. The programs calculates the floorplan's degree of difficulty and what scores can be earned by riding at a higher degree of technical difficulty. When the kur to Music class takes place, the judges have a score sheet with the floorplan of each rider before the.
At the 2016 CDI-W Odense DOD creator Katrina Wüst also sat on the judging panel. In an interview with Dressursport Deutschland, Wüst shared her impressions of working with the system in Odense.

"It was exciting. Of course we all have to get used to the new system first. It was also for me a first time," said Wüst. "One thing was very clear: when the rider had handed in a well balanced kur, which is luckily the case most of the time, than the scoring of the difficulty and the resulting calculation of the A-marks worked fine in the new system. The goal was to improve the transparency of the scoring and we achieved that fully. When the rider clearly rode in a different way than submitted on the kur score sheet, it first created confusion but now it was solvable. I also think that the riders still have to learn how to handle the new system."

The degree of difficulty is only responsible for 10% of the total kur score. "It's influence is limited," Wüst continued. "Take for instance the winner in Odense. His freestyle is spectacular but not very difficult. The pair had other highlights, which led to the high score. It is not primarily about the difficulty as primary feature (in a freestyle), but the differentiation and transparency regarding the scoring of the difficulty which have definitely improved with this system. It will bring riders to even better think through their freestyle  which will be good for the sport in general.
Source: Dressursport Deutschland
Related Links
2016 Global Dressage Forum - Day One: Surprise FEI Revelations, Media and Sponsorship
Wust's Degree of Difficulty Kur Judging Format Tested at 2015 CDI Fritzens
Jurado Lopez Reigns at 2016-2016 Western European League World Cup Opener in Odense