2016 Hungarian Young Horse Championships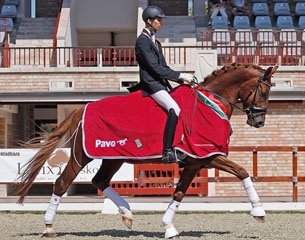 The 4-year old Jamiroquai, the 5-year old Kitti, and the 6-year old Fly With Me became the winners of the 2016 Hungarian Young Horse Championships which were held during the 2016 Dressage Nationals in Diosgyor, Hungary, on 9 - 11 September 2016. A decent group of 4-year olds and two small groups of 5 and 6-year olds, which included ponies and horses, gathered at the venue to battle it out for the national title.
Nine 4-year olds competed in the two rounds to determine the 4-year old champion. Former international young rider Barnabas Gemes won it aboard Jamiroquai, a Hungarian warmblood by Johnson x Alabaster, bred by Péter Lomnici, which Barnabas has been riding for a year now. The pair won both rounds with 84.00 and 83.00 points for a 167 point total and the gold medal. Hungarian pony team member Jazmin Yom Tov, who has also been competing at junior level, was the runner-up aboard Hokypoky. They scored 73.80 and 80.00 for a total of 153.80 points. Brand new Grand Prix champion Nikolett Szalai earned bronze aboard the Hanoverian bred Die Oder Keine (by Don Index x Hochadel) with 77.60 and 75.00 to finish third on 152.60 points.
In the 5-year old division Viktoria Nebel topped the board twice for highest honour aboard the Friesian bred Kitti (by Viktor fan Bommelsteyn x Sape x Olof) . She scored 78.00 and 79.00 to finish first on 157 points. Zsofia Jakus and the bay Valero earned silver with 74.00 and 75.80 (149.80). The bronze medal winner followed in the distance with scores below 7. Tamas Balant and the Friesian Jawol fan Fjildhuzen (by Beart) scored 64.60 and 66.00 to slot in third with 130.60 points.
In the 6-year old division just four combinations rallyed. Professional Grand Prix rider Robert Acs grabbed the gold aboard the black Fly With Me. The pair scored 74.00 and 83.40 to finish first on 157.40 points. Fanni Malaczkov and the Dutch bred pony Majans Chico (by Wengelo's Ricardo) were the silver medalists with 68.20 and 71.60 (139.80 total) while Martin Domkan and Grafit got the bronze with 65.20 and 66.80 (total 132.00 points).
The sole Hungarian young horse pair that competed at the 2016 World Young Horse Championships - Csaba Szokola on the 5-year old Siracusa - was absent from the National Championships.
Photo © Anett Somogyvari
Related Links
Nikolett Szalai Wins 2016 Hungarian Grand Prix Championships
One Hungarian Horse to Compete at 2016 World Young Horse Championships