American Breeding News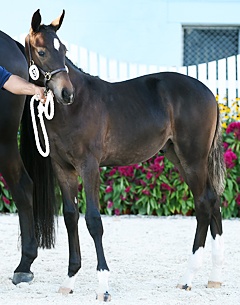 The Dutch warmblood bred Logan ISF (by Contango x Sorento) won named the champion in the foal division on the first day of competition at the 2016 Devon Breed show on Tuesday 27 September 2016.
With the weather cooperating for once, the 2016 Dressage at Devon breed show kicked off with the yearlings, two, three and four year old fillies, as well as colts and geldings in the Dixon Oval and Gold Ring.
Logan ISF is by the preferent sire Contango out of Bicara (by Sorento) and bred and owned by Iron Spring Farms from Coatesville, PA.
The reserve champion's title in the Foal Championship went to Don Kapper's filly Dancing Moon OBX, while Sara Vaneck's colt Furst Tristan placed third.
The 2016 Devon Breed Show also featured regional east coast finals. The regional 3-year old filly champion was Dulce Rosa (by For Romance x Jazz Time) with a score of 80.287. This Oldenburg registered filly is bred by American amateur Grand Prix Marne Martin-Tucker from Woodbine, MD.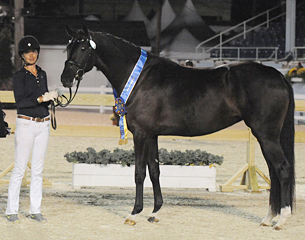 "I am over the moon as this is her first day ever showing in hand, let alone at a place like Devon," said an enthusiastic Martin-Tucker.
The East Coast 3-year old colt and gelding Final was won by the Dutch warmblood gelding Imperial ISF (by Florianus II out of keur mare Andorra ISF (by Sir Sinclair)) with a score of 78.375 and bred by Iron Spring Farm in Coatesville, PA.
The three year old Mare Materiale was won by Serenade MF (by Sir Donnerhall out of Duet MF (by Don Principe)), a Hanovarian mare bred by Maryanna Haymon and owned by Alice Tarjan.
An expert team of judges looked at the foals, in what is, effectively a snapshot in time. "We are looking for potential international dressage prospects that have a good future," said Debbie Riehl-Rodriguez, a USEF "S" judge, Sport Horse Breeding judge and a member of the USDF "L" faculty for judges training. "(Because they are so young) they can change over a short period of time and so it is awkward to judge yearlings and two year olds."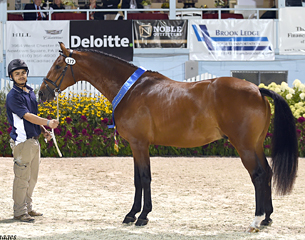 "We look for pretty horses but they have to have a natural uphill balance," said judge Renee Johnson, who has compete successfully to Grand Prix and holds Gold, Silver and Bronze medals. "Even though they are in growth stages, we look for excellence in confirmation and above average movement correctness that indicates durability. But just because a horse doesn't win, doesn't mean that they won't do well as they grow."
Photos © Hoof Print Images
Related Links
Stenagers Welina, Grand Champion of the 2015 Devon Breed Show
Quartet GSH and Figawi 121 Win 2014 Devon Breed Show Foal Championship Classes
Sanibelle, Grand Champion of the 2013 Devon Breed Show
David Bowie MF Named Foal Champion at 2012 Devon Breed Show
Cha Ching Named Foal Champion at 2011 Devon Breed Show