2016 Irish Dressage Championships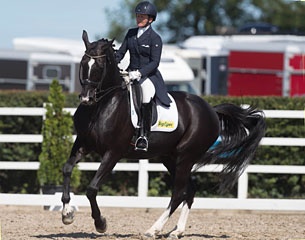 Anne Marie Dunphy became the 2016 Irish Grand Prix Champion at Dressage Ireland's 2016 National Championships held at Barnadown in Co. Wexford from 26 - 28 August 2016. The 2016 Irish Championships became a total triump for Dunphy as her two students Courtney Stuart and Rachely Dowley also claimed the titles in the two small tour classes.
This year no Pony Championship was contested as the IrishNationals  took place one week after the European Pony Championships in Denmark. The Irish Pony team was still giving their ponies a break.  One combination
did ride the pony classes, but technically the division was not a
championship as there needs to be at least two combinations scoring over
60% for it to be considered a championship event. Same counted for the Grand Prix Kur class which had only one participant.
Dunphy, 2016 Irish Grand Prix Champion
Riding her own Urbanus, a 15-year old black Dutch warmblood gelding by Ronaldo x Ferro, Dunphy was awarded an almost unanimous score of 66.118% from judges Claire Ballantyne and Antje Fiege in Friday's Inter II Championship. She then consolidated this form in Saturday's Grand Prix to take a clear victory, over a mark ahead of Reserve Champion Sandra Blake Farrell and the veteran Saint Emilion II.
Dunphy, who is also the manager of Horse Sport Ireland's high performance pony dressage squad, returned from the 2016 European Pony Championships in Denmark only days before this show and rose to the challenge of her limited preparation.
Speaking afterwards, she said, "to earn the title of Irish National Champion has always been one of my ambitions, though it has eluded me until now. I have come close to it a few times, and I was Reserve Champion with this horse last year, so I'm delighted to have finally won it." Of Urbanus, whom she has produced from a 4-year old, she said, "when I got him as a young horse, he was very big and weak but had great presence, and I always knew he would need time to reach Grand Prix- it's been quite the journey!"
Stuart and Dowley Win Small Tour Titles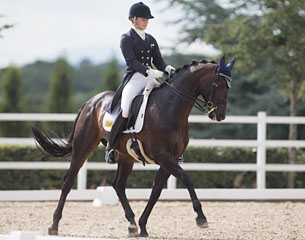 Dunphy juggled her riding commitments with those of trainer throughout the show, and two of her students, Rachel Dowley and Courtney Stuart, came to the fore in the small tour classes. Both of these twenty three year old riders were quick to thank their coach for her role in their success.
In the Prix St Georges, Courtney Stuart edged ahead of former Olympian Heike Holstein to win on a score of 66.513%. The former student at Talland School of Equitation rode her 14-year old Westfalian bred, reigning Winter Champion Fanfarron (by Florestan x Debutant), with whom she recently achieved personal best international results when earning top-ten placings at Hartpury CDI in the UK.
This win was particularly rewarding for Stuart, as she lost her grandfather only a week prior to the show. "I wasn't even sure that I would make it to these championships, but I did thanks to a lot of support from family and friends, and I couldn't have asked for a better
weekend".
In the Intermediare I, Dowley rode Cadens, her 9-year old by Hochadel, to a winning score of 67.039%. Reserve champions Alice Hurley and Karen Bourdon's Deseado CCV finished two and a half marks behind her on 64.539%.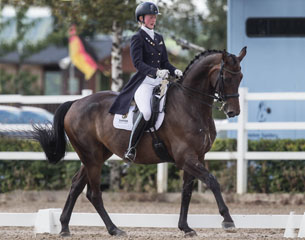 "I'm delighted with my horse," was Dowley's reaction to her success. "This was only our third start at Inter I, so my aim was to pull off a clean test and to win far exceeded my expectations. Cadens is the first horse I have had the opportunity to produce to this level from a youngster, and that makes this result all the sweeter."
Stuart went on to win the Prix St Georges Kur to Music. She has studied performing arts at college, so choreography is her strong point. Stuart rode an almost flawless kur on Fanfarron with tempi changes on serpentine loops and a high degree of difficulty. She performed to music by Ellie Goulding and One Republic.
Results - 2016 Irish Dressage Championships
Pony Riders  - Team Championship Test

1. Be My Snowflake - Victoria Campbell -  64.167
Pony Riders - Individual Test
1. Be My Snowflake - Victoria Campbell -  61.220
Prix St Georges
1. Fanfarron - Courtney Stuart  -66.513
2. Sambuca -  Heike Holstein -   66.118 
3. Cadens -  Rachel Dowley -  66.053 
4. Captain Negro C -  Belinda Brereton  - 65.263
5. Deseado CCV - Alice Hurley -  64.013  5
6. Nibeley UJ Lady Lara -  Alex Baker  -  63.421 
7. Aramis -  Alana Cazabon-Sullivan -  60.395 
8. Leander - Bethan Pereira - 60.197 
9. Zidane -  Lucinda Webb-Graham -  57.697 
10. Vileberrie -  Monica Dunne -  57.632  
11. Beezies Big Brother  -  Simone Hession  - 55.526 
12. Earlspark Loretto -  Sinéad McGrath -  55.395
Variant H - Elizabeth Frayling - DNS
Dark Site -  Alana Cazabon-Sullivan - DNS
Intermediaire I
1. Cadens -  Rachel Dowley - 67.039 
2. Deseado CCV -  Alice Hurley -  64.539
3. Fanfarron -   Courtney Stuart - 63.882
4. Captain Negro C  - Belinda Brereton -  63.092
Prix St Georges Kur to Music
1. Fanfarron -  Courtney Stuart - 74.063
2. Captain Negro C -  Belinda Brereton  -  69.813 
3. Nibeley UJ Lady Lara -  Alex Baker - 68.875
4. Deseado CCV -  Alice Hurley - 67.688
5. Cadens -  Rachel Dowley -  67.438 
6. Beezies Big Brother  - Simone Hession  - 62.500  
7. Vileberrie -  Monica Dunne   -60.188   
Earlspark Loretto - Sinéad McGrath  - DNS
Intermediaire II
1.Urbanus  -  Anne Marie Dunphy-  66.118 
2. Saint Emilion -   Sandra Blake Farrell -   65.132
3. Salancio -  Marguerite McSweeney -  60.658
Grand Prix
1. Urbanus -  Anne Marie Dunphy -  63.700
2. Saint Emilion - Sandra Blake Farrell -   62.300
Grand Prix Kur to Music
1. Saint Emilion - Sandra Blake Farrell -  64.563
by Rachely Dowley - Photos © Alf Harvey
Related Links
Cazabon-Sullivan, Reynolds, Tong Win 2015 Irish Dressage Championships
Judy Reynolds Wins 2014 Irish Dressage Championship
Roland Tong Wins the 2013 Irish Dressage Championships
Hamilton Dominates Star-Studded 2011 Irish Dressage Championships
Sarah Mellor Wins 2010 Irish Grand Prix Championship
Truesdale Wins 2009 Irish Dressage Championships
Heike Holstein, 2007 Irish Dressage Champion