American Dressage News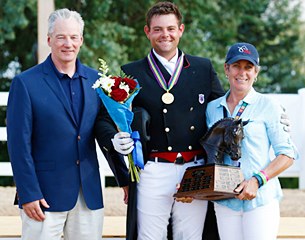 The United States Dressage Federation (USDF) announced that Region 1 Young Rider Nicholas Hansen, of Catawissa, PA, and his fifteen-year-old, Westfalen gelding, Ritter Benno, were awarded this year's Fiona Baan "Pursuit of Excellence" Memorial Trophy.
This trophy, which is on permanent display in the Roemer Foundation/USDF Hall of Fame, is awarded to the Young Rider who earns the highest combined average score in the three dressage tests: FEI Young Rider Team, Individual, and Freestyle. Nicholas was the highest scoring competitor in the team test, individual test, and the freestyle test at this year's North American Junior & Young Rider Dressage Championships
Hansen secured the win of the Fiona Baan "Pursuit of Excellence" Memorial Trophy in the FEI Young Rider Division with an overall combined average of 72.297%. He earned a 72.263% in the Team Test, 72.502% in the Individual Test, and 72.125% in the Freestyle Test.

The "Pursuit of Excellence" is the legacy Fiona Baan left to all the FEI Young Riders, and indeed to everyone who ever knew or worked with her. For nearly 30 years, Ms. Baan worked tirelessly with great dedication to the United States Equestrian Team (USET). She was U.S. Dressage Team Leader for the 1976 Olympics, in which the U.S. won the Bronze Medal, the 1987 Pan Am Games, and for the Bronze Medal dressage team at the 1992 Olympics, in Barcelona.
Photo © Sue Stickle
Related Links
U.S. Region 1 and Nicholas Hansen Win Gold at the 2016 North American Young Riders Championships
Catherine Chamberlain Awarded 2014 Fiona Baan 'Pursuit of Excellence' Memorial Trophy
DelGiorno Dances Her Way to a Freestyle Gold at 2009 NAJRC
Laura Noyes Wins Lionel Guerrand-Hermès Trophy
Leslie Eden and Region Three Gold Medal Dressage Winners at 2001 NAYRC