2016 Olympic Games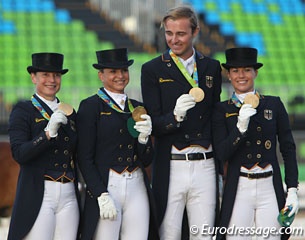 The dressage team championship finals at the 2016 Olympic Games in Rio de Janeiro, Brazil, concluded on Friday 12 August 2016 with Germany recapturing gold, Great Britain taking silver and the United States earning bronze. It was a thrilling Grand Prix Special test, which served as second part of the team competition. Its scores were added to those of the Grand Prix. The medal winners were over the moon and celebrated their performance. Here is a round-up of the reactions of the podium place getters.
Germany Back On Top
German's Olympic team gold medal streak has been restored as the country has been the undefeated Olympic champions since 1984. With only a brief break from gold at the 2012 Olympic Games in London, where Charlotte Dujardin, Laura Bechtolsheimer and Carl Hester secured gold for Great Britain on home turf, Germany repositioned itself at the highest step of the podium.
All four German team members produced more than solid rounds. With three riders scoring over 80% and fourth rider Sönke Rothenberger at a fantastic 76.261%, the German team totalled an average of an unprecedented 81.936%. Isabell Werth became the top scorer in the Grand Prix Special with 83.711% and turned herself into the most successful Olympic equestrian athlete of all time, having won no less than 6 gold medals in her career, five of them are team gold and one was individual gold at the 1996 Atlanta Olympics on Gigolo FRH, and three silver medals (individual silver at the 2008 Beijing Olympics on Satchmo). She beat Dr. Reiner Klimke in the history books who also has six gold medals and two bronze.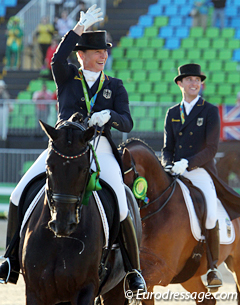 Werth admitted that the Germans had set as motto of the day, "we want our gold back!" After the medal ceremony Werth told an ARD broadcaster, "it went perfectly, it was the day of days, everything worked. We have a super great team, as good as we have ever had and it was deserved."
The second best German ride came from Dorothee Schneider and Showtime. The pair could easily have topped the board themselves had they not made a small mistake in the right pirouette. They finished third with 82.619%.
"I feel five kiloes lighter. Showtime is a horse that likes to present himself. This is all very emotional for me, while I have trained him myself for the past seven years. When you ride him well, then something fun like today comes out of him."
German team trainer Monica Theodorescu concurred, "Showtime went his best Grand Prix Special test. Aside the small misunderstanding in the pirouette he was sovereign and precise. This horse gets more and more relaxed. It has worked to their advantage that they got good confidence on the first day of competition."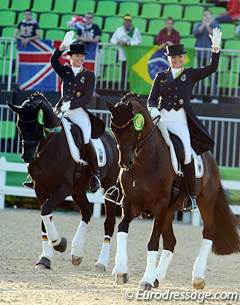 Kristina Bröring-Sprehe and Desperados were the fourth placed German pair with 81.401%
Theodorescu, who also trains the pair on a regular basis at home, said that "Tine and Desperados were sensational. On the first day he's always a bit wound up, which showed in his first piaffe. But then she was able to give him some leeway and he got more relaxed in the rest of the test."
Sönke Rothenberger and Cosmo placed 10th with 76.261% and were the scratch score for the team.
"I'm very happy that Cosmo went the way he went," said Rothenberger. "We had a mistaake in the canter tour which pressed our end score down. However, I'm still very content. I have the youngest horse in the field and think he really showed the qualities he has and that when he can mature a bit more he is part of the world top."
Great Britain Gets the Silver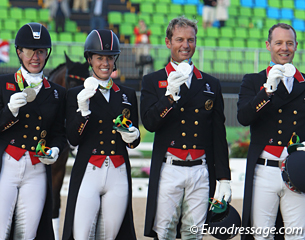 After winning gold at the 2012 London Olympics, the Brits came to Rio with a very strong team and clear team medal chances. With reigning European, World and Olympic champion Valegro as trump card, Carl Hester and Fiona Bigwood just had to perform to their usual standard to secure a step on the podium. Spencer Wilton and Super Nova have been improving throughout the show season and their performance could have been a bonus as well as a safe scratch score to support the team. In the end, Great Britain won silver with a team average of 78.595%, of course heavily boosted by Dujardin's 83.025%.
Carl Hester not only has been a key rider on the team, but he has also been working as the "unofficial" team trainer, coaching Dujardin, Bigwood and Wilton at the event.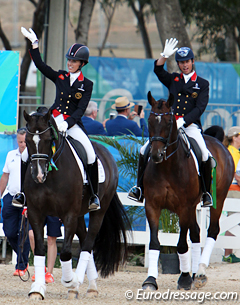 After the medal ceremony a delighted Carl spoke to the BBC's Lee McKenzie: "It's a very, very elated feeling, we fought hard for this. To come back from an Olympics where we had our first medal in London, to hold on to another one, it was desperation point for me that it would happen but I think our horses performed amazingly. Let's not forget, our horses have travelled half way across the world. The fact they have come off the plane, they have been beautifully looked after by our team of grooms, they've been able to perform at this sort of level in Rio is just amazing. The horses can do that! They're our partners in this sport and we're very happy with how they've all gone."
"Not only was it [Spencer's] first team but it's his first Olympics too, that's some pressure and he upped his game again today. I said it's really important that you feel part of it, and Charlotte of course is just the star. We rely so heavily on Valegro. This is his sixth year at championship level and that horse is just amazing. He's done two shows since the European Championships last year. It's a walk in the park watching him go round that test, he's so easy for it and relaxed about it – I get huge pleasure watching him. I can't wait to get back to the stable and give them all a great big hug and a pat."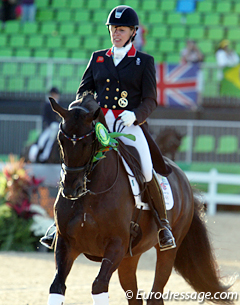 "My team mates have been great this week, they always ask how do you do it and make me feel good about myself. I'm just so proud of them because I think the inspiration that we've been able to give them with six years of medals. It's why we're now producing riders for the future."

After the medal ceremony, the four riders gathered – along with their Silver medals – to speak to Lee about making British dressage history with a second Team Olympic medal. Spencer exclaimed: "It's like a dream come true! I was always hoping we were going to get a medal but actually, if you told me four years ago that I'd be standing here with a medal around my neck I wouldn't have believed you, it's incredible."

"It's been a mental two years, but I'm here and I've got a medal round my neck," continued Fiona (who had a fall from her horse in 2014 and sustained severe eye damage, which is why she rides with an eye patch. "I have to say, we're all really good friends. So to do it with a group of people that socialise all the time, it's been fantastic!"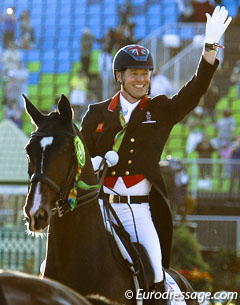 Agreeing, Carl explained: "It's the good team spirit that makes it so much more enjoyable. [Dressage Team GB] never managed to medal until London, then to suddenly get a gold medal out of the blue at the right time, in the right country was sensational. We've managed to continue that and come here to take home a silver – it's not quite the same, but it's very fulfilling and I know that this will keep a generation of young riders coming into our sport. UK Sport helps us manage to achieve our dreams, at the end of the day you can't make a living out of riding horses, we have to be helped a lot to get this far, so it's great that we can repay everyone that has put in [so much]."
"I'm really proud of having a Silver medal," announced Charlotte, grinning from ear to ear. "It was going to be so tough to get the gold as we knew the Germans were really, really tough this year. We all did our very best, so we're all very happy and we're really proud to be coming home with a silver."
America Back on the Podium
The American team was back on the Olympic podium after a 12 year break from team medal glory. With their last bronze achieved at the 2004 Olympic Games in Athens, the USEF technical staff had to go back to the drawing board and set up a more elaborate system to systematically support, coach and bring together American talent and potential. The program began taking shape when Anne Gribbons was the technical director. Team trainer Robert Dover fuelled the program with even more time, money and energy and this mutual year-long effort has now paid off in Rio.
""First of all, a big thank you to Robert Dover who was also on the team in 2004," said senior team member Steffen Peters. "We knew it had to be above 75 percent and all four riders and horses are capable of delivering 76-77 percent, so we knew we had a chance, but when it actually happened it was amazing! If you wanted to see a 52-year-old guy acting like a 10-year-old boy, you should've seen me in the stands when Laura was coming down centerline – I was crying my eyes out and it was just one of those absolutely amazing experiences. There's a lot of people who are certainly a big part of this medal."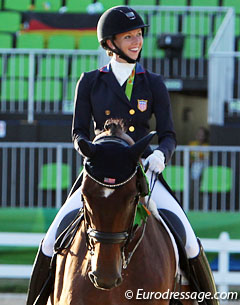 The American bronze medal campaign was led by Laura Graves who scored 80.644% in the Grand Prix Special to boost U.S.'s team average to a 76.667%.
"We've captured the elusive 80% - it does exist!" said a thrilled Graves, who was one of only five riders to score above 80%. "I knew the test was going well, but you just always hope that your reflections match up with the judges. I had no idea going into the ring what I needed for a score and to see my teammates so happy and then to achieve my personal best score - and a score I've been reaching for - was just icing on our cake today."

Steffen Peters competed in his fourth Olympic Games and rode Legolas to 74.622%.
"I'm super happy with Legolas. We delivered for the team, that was my goal and that's what we did," said a delighted Peters. "We had a couple of little fumbles – he lost his balance in the left half-pass which is uncharacteristic of him and we had a little delayed reaction into the first piaffe, but then he did it beautifully. The rest of the test was very clean. He did his changes very nicely, but I knew that after the half-pass 'fumble' that if we had one more mistake in the flying changes then we'd be below the required average score to stay ahead of The Netherlands. I knew going into the ring exactly what score I had to get and I'm super happy that it worked out - but it was close!"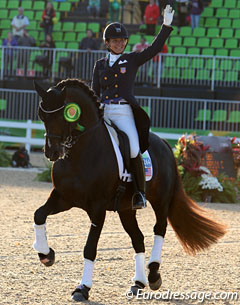 Olympic first-timers Allison Brock and Rosevelt were the trailblazers as the first U.S. pair to perform the Special on Firday The duo scored 73.824%.
"I was really happy with him," remarked Brock. "He was really good. He was better than in the Grand Prix and did a clean test. That's what we needed to do to set the stage for my teammates and we did it, so I'm really happy with him. I laughed a little at the end of my test because I said thank you [to Rosevelt] for doing this for me because it got hot in the ring and I just had to give him a lot of credit. He tried really hard. Bless him."
Team newcomers Kasey Perry-Glass and Dublet became America's drop score in the Special, even though her 73.235% was more than respectable.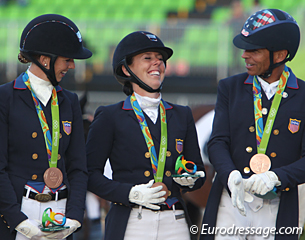 "It wasn't our best, but you know I have to give it to Dublet as he's really trying to stay with me," said Perry-Glass. "We have a couple kinks to work out, but it's our first year and we moved up very fast, so I have to give him credit on that for staying patient and really trusting me in the ring. My plan was just to give him a good experience and also I was thinking about the team. I really wanted to do this for the team, but sometimes it's just not your day."
Photos © Astrid Appels - No reproduction allowed
Related Links
Eurodressage Coverage of the 2016 Olympic Games