Canadian Dressage News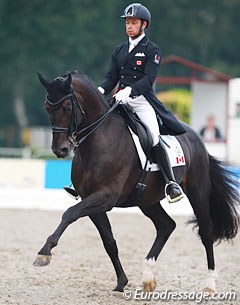 David Marcus has announced the retirement of Chrevi's Capital, his 2012 Olympic and World Equestrian Games partner. The 16-year-old Danish Warmblood gelding is owned by Deborah Kinzinger-Miculinic.
"After a six-year partnership and 34 CDIs, there is so much to say about how I feel about Chrevi's Capital," Marcus said. "Capi is the most kind, people oriented and happy horse I've had the pleasure to work with. He has taken me on two European tours as well as to Aachen, an Olympic Games, and a World Equestrian Games, and for that I am forever thankful not only to him, but also to his owner. Deb has been there through the ups and downs and has been incredibly supportive in our journey together.
Chrevi's Capital, who is by Chrevi's Lavallo out of Indira Gandhi (by Weinberg), will eventually move from Wellington, Florida to Canada for his retirement.
"Deb is building a farm in Ontario, Canada, and I would love nothing more than to see him live happily in the field there," said Marcus . "Capi and I have learned so much together. He has taught me so much about compassion, horsemanship and patience on top of making me a better rider and trainer."
Marcus found Chrevi's Capital in Sweden in 2010, and his original goal was to finish him through to Grand Prix and resell as an investment for Deborah Kinzinger-Miculinic. As their partnership grew, he saw international quality potential, and they decided to campaign him for the London Olympics.
On top of competing at the London Olympics and the 2014 World Equestrian Games in Normandy, France, the pair also qualified for the World Cup Final in Gothenburg, Sweden. They were ranked in the FEI Top 50 in the world, represented Canada on multiple Nations Cup teams and won many CDIs at Grand Prix, include Dressage at Devon and at the Global Dressage Festival.
Photo © Astrid Appels
Related Links
Canadian Team Selected for 2014 World Equestrian Games
David Marcus, First Timer on a Team of Wisdom
Deborah Kinzinger, Dressage Canada Owner of the Year 2013
David Marcus Scores Grand Prix Hattrick at 2013 CDI Rockwood
David Marcus and Chrevi's Capital Win the 2013 CDI-W Wellington Grand Prix
David Marcus and Chrevi's Capital Extend Winning Streak at 2012 CDI Lexington