Auction News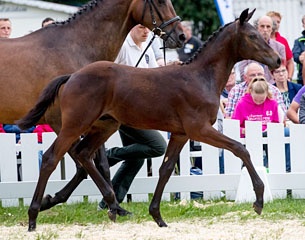 The black colt Instagram (by Schwarzgold x Vivus) became the top selling foal at the 2016 Trakehner Elite Foal Auction held during the Trakehner young horse championships in Hanover, Germany, on 22 - 24 July 2016.
Instagram is bred by Jörg Bustorf and sold for 25,000 euro to Adrian Gasser in Switzerland. He also acquired the black colt Kaskadeur (by Singolo x Elfado) for 18,500 euro.
The filly Pemba (by Sir Sansibar x Le Rouge) sold to Austria for 13,500 euro, while the colt Boulevard (by Gabun x Connery) sold for 13,000 euro to the same buyer.
The colt Kandinski (by Sir Sansibar x Kentucky) will stay in Germany but switched owners for 10,000 euro. Kleon (by Rheinklang x Exclusiv) found a new German owner for 10,000 euro.
Fifteen foals were up for auction and they achieved a top average sales price of 10,380 euro.
Photo © Stefan Lafrentz
Related Links
Travertin, Price Highlight of the 2015 Trakehner Foal Auction
Estella, Price Highlight of the 2014 Trakehner Foal Auction
Standing O' Vation, Top Seller at the 2013 Trakehner Elite Sport Horse and Foal Auction
Pleasure, Price Highlight of the 2012 Trakehner Foal Auction
Tudor, Top Selling Foal at 2011 Trakehner Foal Auction in Hanover