American Dressage News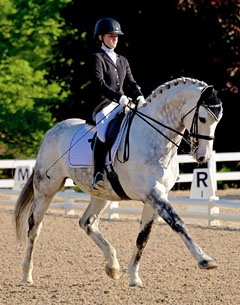 The United States Dressage Federation (USDF) announced  the riders selected to represent the United States in the 2016 North American Junior and Young Rider Dressage Championships at the Colorado Horse Park in Parker, CO.
championships will be held July 26-31, 2016. A total of 48 juniors and young riders, from across the country, will compete.
The NAJYRC is the premier equestrian competition in North America for juniors and young riders, age 14-21. Young equestrians vie for team and individual FEI medals in the three Olympic equestrian disciplines of show jumping, dressage, and eventing, the Para-Olympic discipline of para-dressage, and the FEI World Equestrian Games disciplines of reining and endurance.
"The NAJYRC is the culmination of a lot of hard work for our Juniors and Young Riders across the country. As a team competition, it fosters sportsmanship at the highest level for these young people within our sport. I'm very proud of all of the volunteers, parents, and riders who have put this together, and I'm looking forward to seeing them there!" said Roberta Williams, chair of the USDF FEI Jr/YR Committee.
The following riders and horses will represent the United States:
USDF Region 1 Juniors
Kayla Kadlubek and Freewill
Allison Nemeth and Dafoe.
USDF Region 1 Young Riders
Nicholas Hansen and Ritter Benno
Elizabeth Bortuzzo and Macao
Mallory Chambers and Urithmic
Lian Wolfe and Zimba
USDF Region 2 Juniors
Callie Jones and Don Philippo
Meredith Talley and Romeo
Sophia Schults and Sandro
Jacquelynn Mackie and Weltrubin
USDF Region 2 Young Riders
Rebekah Mingari and Elzarma TF
Kayla Barteau and Raymond
Keegan O'Brien and Foley
Hunter Chancellor and Amigo For Ever
USDF Region 3 Juniors
Marline Syribeys and Hollywood
Juliet Hess and Diano
Emily Hewitt and What's Up de la Ferme Rose
Helena Milazzo and Baccus
USDF Region 3 Young Riders
Rachel Robinson and Indira
Rebecca Roman and Ultimo
Meghan Miller and Remington.
USDF Region 4 Juniors
Jenna Upchurch and Greystoke
Cara Fragomeni and Aragon
Madison Peer and Stella Luna
Bianca Schmidt and Octavian's O'Neill
USDF Region 4 Young Riders
Codi Harrison and Katholt's Bossco
USDF Region 5 Juniors
Jackson Gillespie and Westpoint CB
Gaylen Davis and Mojito RH
Katherine Scotford and Dean Martin
Paige Smith and Welkin.
USDF Region 5 Young Riders
Lexy Donaldson and Power Play.
USDF Region 6 Juniors:
USDF Region 6 Young Riders
Stevie Gaudreau and RI Maverick
Sarah Lane and Dutch Treat
Piper Newman and Whatsup
USDF Region 7 Juniors
Christian Simonson and Herzkonig
Ben Ebeling and Descartes
Nila Venkat and Skyler Ace
Annie Ray and Calvin Klein
USDF Region 7 Young Riders
Katharine Cassidy and Welt Erbe
USDF Region 9 Juniors
Madison Lacy and Cipriani
Abigail Fleischli and Laguna
Madeleine Ramon and Lowenherz
Kyra Shine and Alaric
USDF Region 9 Young Riders
Allison Cyprus and Madoc Gareth
Eden Wyker and Welmingh
Anna Campbell and Liebling
Allison Hopkins and Rusty
Photo © Astrid Appels
Related Links
Canadian Teams Named for 2016 North American Junior/Young Riders Championships
2016 NAJYRC Hosted at Colorado Horse Park on 26 - 31 July 2016