2016 World Championships for Young Dressage Horses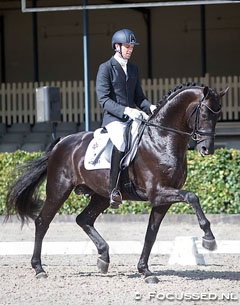 The Dutch equestrian federation and KWPN society announced the horse-and-rider combinations which have qualified to represent The Netherlands on home turf at the 2016 World Championships for Young Dressage Horses in Ermelo, The Netherlands, on 29 - 31 July 2016.
The Dutch federation and KWPN society held a series of training and observation trials which culminated into a long list of pairs that qualified to compete at the 2016 Dutch Championships in Ermelo on 15 - 17 July, where a semi-finals and finals was held for these young horses.
Based on the results achieved in the competition tests in those two rounds, the following combinations qualified to represent Holland at the World Championships. These combinations are:
5-year olds:
Governor (by Totilas) – Adelinde Cornelissen
Great Lady TC (by Bretton Woods) – Jeanine Nieuwenhuis
Guadeloupe-Beau (by Bordeaux) – Kim van de Velden – van de Muren
Glamourdale (by Lord Leatherdale) – Benjamin Maljaars
Grand Galaxy Win (by Apache) – Severo Jurado Lopez
Gunner KS (by Belissimo M) – Dana van Lierop
6-year olds:
Flanell (by Apache) – Veronique Roerink
Ferdinand (by Vivaldi) – Mirelle van Kemenade-Witlox
Ferrero (by Rhodium) – Jennifer Sekreve
Four Legends (by Wynton) – Marieke van der Putten
Fossbury (by Ampere) – Carlijn Vaessen
Five Star (by Amazing Star) – Kirsten Brouwer
7-year olds:
Electra (by Jazz) – Lynne Maas
Elysias (by Jazz) – Karen Nijvelt
Eastpoint (by Wespoint) – Lynne Maas
Equirelle (by Florett As) – Kyra Klinkers
Eddieni (by Johnson) – Agusti Elias
Ebony (by Painted Black) – Vai Bruntink
Holland and Germany are the only two countries in the world who are allowed to select no less than six combinations per age division for the World Championships. The WBFSH decided on this quotum based on the size of the studbooks in those countries.
Photo © Anniek van Schaik
Related Link
Eurodressage Coverage of the 2016 World Young Horse Championships