2016 Bundeschampionate Qualifier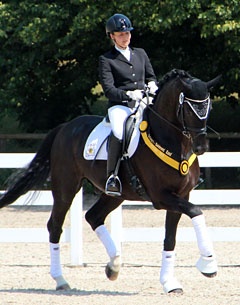 The 5-year old Faris Girl and the 6-year old Sorrento Snorri were the winners of the two Bundeschampionate qualification classes held at the 2016 Baden Wurttemberger Regional Championships in Tubingen, Germany, on 1 - 3 July 2016. Tubingen had a good turnout of horses and the the field of competitors fighting for a Warendorf ticket was strong.
In the 5-year old division Andrea Dlugos and the Wurttemberger bred mare Faris Girl (by Furstenball x Rubin Royal) won the L-level dressage horse class with a total of 8.2. The dark bay mare got 8 for walk, canter and submission and 8.5 for trot and general impression. Meike Lang and the Wurttemberger stallion Lord Blackwood (by Lord Leopold x Don Gregory) were second with 7.8. The black stallion got 8 for walk and canter, 7.5 for trot and submission and 8 for general impression. 
Lang moved into the winner's circle in the 6-year old division by scoring 7.8 on the Wurttemberger stallion Sorrento Snorri (by San Amour x Feinbrand) in the M-level dressage horse test. The black stallion got 7.5 for walk, trot and canter, 8.5 for submission and 8 for general impression. Katrin Burger and the Wurttemberger gelding Sir Solitär (by Sir Sandro x Disco Tanzer) tied in second place with Barbara Bosler on the Wurttemberger smare Sonnenschein S (by San Amour x Cabaret) on 7.7.
Results - 2016 Bundeschampionate Qualifier - Tubingen
5-year olds
1. Faris Girl (by Fürstenball / Rubin-Royal) - Dlugos,Andrea  - 8.50    8    8    8    8.50 --- 8.20
2. Lord Blackwood (by Lord Leopold / Don Gregory) - Lang,Meike  -  7.50    8    8    7.50    8   ---   7.80  
3. Sir Alfi (by Sir Alfred / Fredericus-an) - Burger,Katrin  - 8    6.50    8.50    7.50    8    --- 7.70  
4. Feriado (by Fabregas / Riccione) - Haug,Nicola  - 7.50    7.50    7.50    7.50    7.50    --- 7.50  
5. Lady Darcy (by Lord Leopold / Likoto xx) - Giersch,Joachim  - 8    7    7    7.50    7.50   ---   7.40   
6. Blickfang CK (by Belissimo M / Ehrentusch) - Kaiser,Claudia  - 7    8    7.50    7    7   ---   7.30   
7. Maiglöckchen (by Lord Leopold / Rivero II) - Plogsties,Holger  - 8    7    7    7    7   ---   7.20   
8. Sugar Babe (by Sarkozy / Heraldik xx) - Oberthür,Irina  - 7.50    7.50    6.50    7    7    --- 7.10   
9. Bordeaux's delight (by Bordeaux  / Don Schufro) - Merkel,Vera  - 7.50    8    7    5.50    7   ---   7.00   
10. Senira(by Sir Sandro / Disco-Tänzer) - Mayer,Melanie - 6.50    7    6.50    6.50    7  ---    6.70   
11. Fürstentusch (by Fürstenball) - Bistritz,Freya  - 6    7.50    7    6    6.50   ---   6.60   
12. Rizzoli (by Rosandro / Ex Libris) - Hohmann, Luka Nina  -  7    6.50    6.50    6    6.50   ---   6.50   
13. Silverstone (by Silbermond / Rockwell) - Adamiak,Jennifer  -  5.50    7.50    6.50    6    6  ---    6.30
6-year olds
1. Sorrento Snörri (by San Amour / Feinbrand) - Lang,Meike  -   7.50    7.50    7.50    8.50    8  ---    7.80   
2. FBW Sir Solitär (by Sir Sandro / Disco-Tänzer) - Burger,Katrin  - 8.50    7.50    7    7.50    8   ---   7.70   
2. Sonnenschein S (by San Amour / Cabaret) - Bosler,Barbara  - 7.50    7.50    8    8    7.50   ---   7.70  
4. Saro Hi (by Sirtaki / Florestan) - Haug,Nicola  - 8    8.50    7.50    6.50    7.50    --- 7.60
5. Belcanto (by Belissimo M / Kornett II) - Huber,Frank  - 7    8.50    7.50    6.50    7.50    --- 7.40   
6. Baroness (by Belissimo M / Warkant) - Peter,Susanne  - 7.50    8    7    6.50    7.50   ---   7.30   
7. Ben (by Belissimo M / Caprimond) - Siegle,Beate  - 6.50    7    7    6    7    --- 6.70
Related Link
Eurodressage Coverage of the 2016 Bundeschampionate