Italian Dressage News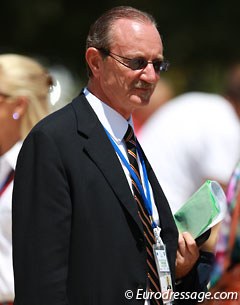 Enzo Truppa, international 5* dressage judge and trainer of numerous Italian Grand Prix riders, has been suspended for four months and ordered to pay a fine of 10,000 euro by the FISE Federal Tribunal.
Truppa filed an appeal against the decision of the Italian Equestrian Federation to suspend him from all his FISE positions as chair of the Italian Judges committee and president of his local riding club for selling his horse Eremo del Castegno in December 2015.
Eremo del Castegno, an Italian warmblood by Rohdiamant x Weltmeyer, was  financially sponsored by FISE by contract until the Rio Games. The Italian federation gave 280,000 euro to Truppa from 2012 till 2015 for keeping the horse secured for Italy until the 2016 Olympics.
Truppa disagreed with FISE's suspension and filed an appeal against it. On 23 June 2016 the FISE Federal Tribunal cast its verdict.
The tribunal was presided by Giuseppe Sigillò Massara assisted by Daniele Piva and Fabio Iudica. They ordered Truppa to pay a 10,000 euro fine and suspended him for four months. The suspension will start on 1 September 2016 as Truppa is coaching Italy's two Rio short-listed combinations Valentina Truppa and Micol Rustignoli.
"It's like a joke," Truppa told Eurodressage. "The real truth is that this FISE is not interested at all in dressage."
Photo © Astrid Appels
Related Links
FISE Sues Truppa for the Sale of Eremo del Castegno
Eremo del Castegno Sold to Brazil
Eremo del Castegno Secured for Truppa until Rio 2016
Valentina Truppa Cultivating Horses Like Good Wine, with Time and Dedication