Australian Dressage News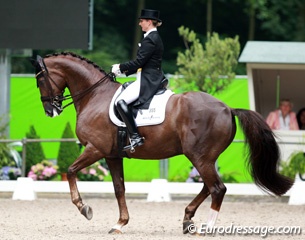 The Olympic nomination series for Australia's Rio Dressage hopefuls has come to a close overnight with Kristy Oatley riding Du Soleil to seventh place and a score of 71.320% in the Grand Prix of the Rotterdam CDI3*.
Oatley and Du Soleil (by De Niro) have been the best placed Australian combination at both nomination events and after equalling her personal best Grand Prix score with this horse, 37-year old Oatley is now on the verge of making her fourth Australian Olympic Team.
Kristy's cousin Lyndal Oatley missed the first nomination event due to a minor injury to her horse Sandro Boy (by Sandro Hit x Argentinus), but the pair was able to return to the arena overnight and they posted a result of 68.800% - the second strongest score of the Australians. 
"I did the best I could under the circumstances," said Lyndal. "By no means was it my best test but at the end of the day I did my job," she said. 'We have been through it all these past ten days: the death of my grandmother, a trip home and back in record time to be with my family, Diva in the clinic, and try and turn up to last qualifier after only a few rides back after flying back into Europe."
Four-time Olympian Mary Hanna stepped out for the second time at this event, this time riding Boogie Woogie (by Du Moulin x Florett As) to a score of 68.000%. Hanna said her horse is going from strength to strength with each outing.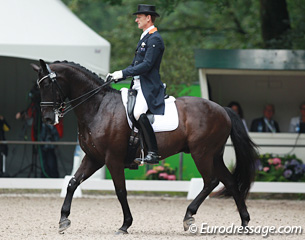 "I am getting more confidence in him and if something goes wrong we can recover quickly.  We are getting more polished on each performance but I still know there is so much more in him when I can tidy up small mistakes.  Each show he gets better and more confident," said Hanna.
Brett Parbery and DP Weltmieser (by Weltmeyer) improved upon their result in the first nomination event, scoring 67.980%. The result will help to bolster Parbery's average score for the overall rankings.
Of the rest of the Aussies in action Maree Tomkinson and Diamantina (by Diamond Hit) scored 64.640% while Sue Hearn riding Remmington achieved a result of 64.340%.
Equestrian Australia will nominate Australia's Dressage Team for Rio to the Australian Olympic Committee (AOC) in accordance with the nomination policy. The AOC will publicly announce the team soon after.
Photos © Astrid Appels
Related Links
Final Show Down for Belgian, Australian, American, British Olympic Candidates at 2016 CDIO Rotterdam
Lyndal Oatley Withdraws from First Australian Olympic Trial at 2016 CDIO Odense
Australia's Short Listed Rio Olympic Team Riders Named for European Head-To-Head Nomination Events
Parbery and DP Weltmieser Strong Australian Rio Contenders After 2016 CDI Boneo Kur Victory