2016 German Dressage Championships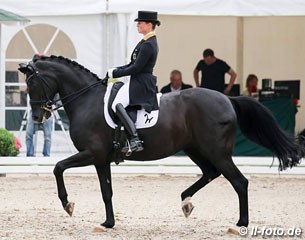 Isabell Werth and Weihegold won the technical part of the 2016 German Dressage Championships in Balve, Germany, on Saturday 4 June 2016 and got the gold medal by acing the Grand Prix Special with 84.294%. She surprising edged out Germany's and the world's number one Kristina Sprehe-Bröring who had to settle for bronze after Dorothee Schneider and Showtime snatched silver.
The German Dressage Championships are traditionally held in Balve, Germany, and like most national championships (no matter if they are in Germany, Holland, USA or anywhere else) scores get quite inflated as an influential confidence booster in the race towards team selection for each year's (inter)continental championship. With the Olympic Games at stake this year, it is imperative that a supremely high scoring team gets nominated for the ultimate battled for Olympic glory and the team heading to Rio at least has to reflect this 80% scoring potential.
Germany seems particularly strong this year with three new horses on its potential team (Weihegold, Showtime, Cosmo) compared to its 2012 London equipe and all four with 80% scoring potential. In Balve only Cosmo was shy from cracking that magical score.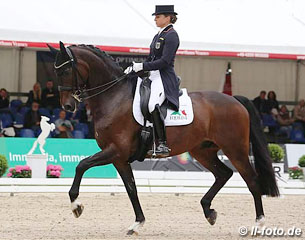 Isabell Werth and Christine Arns-Krogman's Oldenburg mare Weihegold (by Don Schufro x Sandro Hit) topped the Special with a whopping 84.294% after landing second place in the Grand Prix with 81.720%. The black mare was almost faultfree in the Special with only a double beat in the two changes as blemish.
"It's really nice that Weihegold presented herself so well here," said the 46-year old Werth. "Compared to Wiesbaden I was able to ask so much more."
The silver medal went to Dorothee Schneider on Gabriele Kippert's 10-year old Showtime (by Sandro Hit x Rotspon), who scored a personal best of 83.176% after placing third in the Grand Prix with 79.940%.
"He is still a bit shy, but this was a fun ride," said Schneider. "A short while ago he did his first Kur in Munich, so tomorrow he'll have to keep his nerves."
Kristina Bröring-Sprehe and her 15-year old Hanoverian Desperados (by De Niro x Wolkenstein II) landed the bronze after placing third in the Special with 81.922%. They were the winners of the Grand Prix with 81.920%. The stallion was distracted by the noise in the stands. He came to a full stop at the end of the first diagonal, spooking, halting and reversing. This major booboo made them drop in the ranking.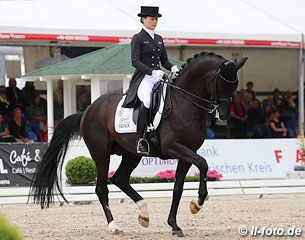 Werth will not be riding Weihegold in the kur to music on Sunday, where another set of medals for the artistic part of the German Championships will be handed out. She will ride her second horse Emilio instead, with whom she placed fourth in the Special. The show program states that riders can only qualify one horse for the Kur, but the DOKR had originally said that all Olympic long-listed horses are obliged to perform the freestyle, to create a level field of play and prevent Totilas issues, which have happened in the past. The DOKR, however, has now agreed that only Emilio competes in the kur.
"I'm incredibly happy with these results," team trainer Monica Theodorescu said about the Grand Prix Special results.
Photos © LL-foto
Related Links
Scores: 2016 German Dressage Championships
German Team for 2016 CDIO Aachen Announced
Balve to Host German Dressage Championships until 2016