2016 Bundeschampionate Qualifier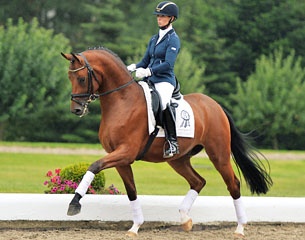 The 5-year old Quel Filou and the 6-year olds Die Furstin and De Valier were the winners of the Bundeschampionate qualification classes held at the annual dressage show at Hofgut Petersau in Frankenthal, Germany, on 20 May 2016. Eleven 5-year olds and ten 6-year olds contested the L and M-level dressage horse class for a ticket to Warendorf.
The 5-year old division was won by the German born Luxembourg Grand Prix rider Sascha Schulz on the Oldenburg gelding Quel Filou OLD (by Quaterback x Stedinger). The pair scored an impressive overall high score of 8.9. Quel Filou, who was acquired by French born and Luxembourg based banker Patrice Mourruau for 1 million euro at the 2014 PSI Auction, scored 9 for walk and canter, 9.5 for trot, 8 for submission and 9 for general impression. Mattias Rath and the Oldenburg stallion Flash Hit (by Furst Romancier x Sandro Hit) were second with 8.3. The stallion got  8 for walk and trot, and 8.5 for canter, submission and general impression.
Caroline Brandt and Ann Kathrin Linsenhoff's Oldenburg mare Die Furstin (by Don Romantic x Furst Heinrich) topped the board in the 6-year old division with an 8.2 total, tying in first place with Dorothee Schneider and the Hanoverian stallion De Valier (by Desperados x Weltmeyer). The mare got 8 for trot, 8.5 for walk and canter, 7.5 for submission and 8.5 for general impression. Schneider and De Valier got 8 for walk and trot, 8.5 for canter and submission and 8 for general impression. Danish born Luxembourg based Kristina Moller and Jens Thorsen's Trakehner mare Standing O'Vation (by Imperio x Consul) were the runners-up with 8.0. The bay mare got 8 for walk, 9 for trot, 7.5 for canter and submission and 8 for general impression.
Results - 2016 Bundeschampionate Qualifier - Frankenthal
5-year olds
1. Quel Filou (by Quaterback x Stedinger) - Schulz,Sascha  - 9.50    9.00    9.00    8.00    9.00 --- 8.90
2. Flash Hit (by Fürst Romancier x Sandro Hit) - Rath,Matthias Alexander  -  8.00    8.00    8.50    8.50    8.50 --- 8.30
3. Echt Stark (by Royal Highness x Fielmann) - Kress,Ilona  -  8.50    7.50    8.50    8.00    8.50 --- 8.20
4. Sean Connery (by Sir Donnerhall x Rotspon) - Schulz,Sascha  - 8.50    7.50    8.50    7.50    8.50 ---   8.10
5. Da Vinci MZ (by Demirel x Don Davidoff) - Michei,Tamara  -  8.00    7.00    8.00    7.50    8.00 --- 7.70   
6. Dan Roy (by Dancier x Sunny-Boy) - Raadt,Pieter van der  -  8.00    7.50    7.00    7.50    7.50 --- 7.50   
6. Jackpot HS (by Johnson x Dr.Jackson D) - Pfeiffer,Kim  - 7.50    7.00    8.00    7.50    7.50 --- 7.50   
8. Sir Lui (by Sir Donnerhall II x Waterford) - Brünen,Stefan  - 8.00    7.00    7.50    7.00    7.50 --- 7.40   
9. Sir Scolani (by Sir Donnerhall x Weltruhm) - Küchler,Jessica  - 7.50    7.50    7.00    7.00    7.50  --- 7.30   
10. Dietrich del Sol (by Dancier x Welser) - Strobel,Laura  -  7.50    7.00    7.00    7.50    7.00 --- 7.20   
Famous (by Floriscount x Wolkentanz I) - Hidien,Alexandra  - RET/DNS
6-year olds
1. Die Fürstin (by Don Romantic x Fürst Heinrich) - Brandt,Carolin  -  8.00    8.50    8.50    7.50    8.50  --- 8.20
1. De Valier (by Desperados x Weltmeyer) - Schneider,Dorothee - 8.00    8.00    8.50    8.50    8.00 --- 8.20
3. Standing O'vation (by Imperio x Consul) - Möller,Kristine  - 9.00    8.00    7.50    7.50    8.00 --- 8.00
4. Sorrento Snörri (by San Amour x Feinbrand) - Lang,Meike  - 7.50    8.00    8.00    7.50    8.00 --- 7.80 
5. Ferdinand (by Floriscount x Embassy) - Pfeiffer,Kim  - 8.00    8.50    7.00    6.50    7.50  --- 7.50   
6. Beckham GT (by Bordeaux x Sir Donnerhall) - Hamberger,Leif  -  7.00    7.00    8.00    7.50    7.50  --- 7.40   
7. Demeter (by Don Corazon x Black Magic Boy) - Beck,Conrad  -  6.50    7.50    7.00    6.50    7.00 --- 6.90   
8. Danice (by Dancier x Rotspon) - Goos,Reinhard  - 7.00    7.50    7.00    6.00    6.50 ---   6.80   
Fuchurs Dream (by Florencio x Furinos) - Baguß,Dirk   - RET/DNS
Lord Fittipaldi M ( by Lord Loxley x Fidermark) - Menze,Ingo  - RET/DNS
Related Link
Eurodressage Coverage of the 2016 Bundeschampionate