2016 Van Olst Sales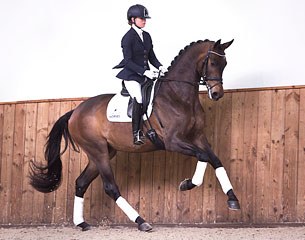 The 2016 Van Olst Sales is unique auction of top quality bred and home reared dressage youngsters aged 3 to 6, which have been hand picked for the Sales by Dutch stallion owner Gert-Jan van Olst and his wife Anne van Olst, Olympic dressage team rider for Denmark. Buy your next future dressage star at the 2016 Van Olst Sales on 25 March 2016.
The 2016 Van Olst Sales offers a collection of 30 stricly selected young, talented, mainly 3-year olds which have recently been saddle broken. These blooming youngsters are still in full development and improving each day with more training and under saddle experience. The collection also boasts several young licensed breeding stallions as well as few 4 to 6 year old trained young dressage horses.
All horses in the collection are either home bred or reared at Van Olst Horses in Den Hout, The Netherlands. They do a strict quality control and make a selection based on potential, health and character.
The  Van Olst Sales' collection includes horses aged 3 to 6 with the majority being green 3-year olds who have just started their career under saddle.
Highlights in the collection include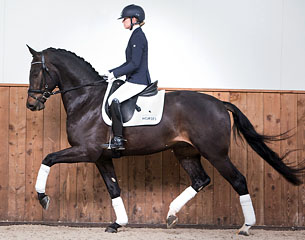 Catalog number 14: Incognito (by Everdale x Sandro Hit)
Icognito is a very high quality dressage horse who would fit a lot of riders. He has an incredibly pleasant character and is very willing to work. Icognito has great looks and makes an impressive appearance. He is made for a big future at top level competition sport!
Catalog number 17: Isodor Ian JCS (by Everdale x Zeoliet)
Isodor Ian JCS is a drop dead gorgeous sond of the top producing Everdale. Isodor Ian is blessed for a good size and conformation, a beautiful model, power, much expression and a top character. He has an exceptional way of moving and is a horse with unlimited potential. He's got it all for a big future.
Time Schedule
Horses can be viewed on appointment on Thursday 17 March (12h-17h) and on Friday 18 March (12h-17h).
The first presentation is on Wednesday evening 23 March at 19h30
The second presentation is right before the auction on Friday 25 March at 16h00.
The 2016 Van Olst Sales auction starts Friday 25 March 2016 at 19h30.
View the complete collection at: www.vanolsthorses.com/veilingpaarden2016-2