2016 CDI Doha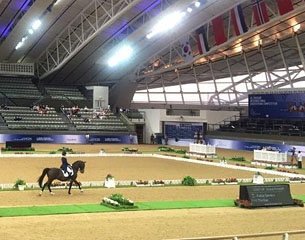 The competition is heating up the weekend of 4 - 6 March 2016 with the final classes being held counting for Olympic Ranking points. In the Middle East a CDI 5* takes place in Doha, Qatar, where Patrik Kittel and Marie Haward's Swedish mare Deja just grabbed the victory in the Grand Prix. Irish Olympic contender Judy Reynolds put herself back in the race with a personal best score.
The final two weeks of the individual Rio Olympic qualification period has been filled with scandal and uproar as inflated scores at the 2016 CDI Moscow earned two local favourites (Merkulova, Aframeeva) controversially their tickets to Rio. At the 2016 CDI Lier in Belgium, an event sponsored by a major Ukrainian corporation, a predominantly Eastern European judging panel ensured a Rio ticket for Ukrainian Inna Logutenkova by giving her remarkable personal best scores as well as giving the Belgian effort a helping hand.
Today at the beautiful state of the art Al Shaqab equestrian centre in sunny Doha, Qatar, the personal-best-score wave continued. A very experienced panel of judges officiated there and it included Christof Umbach (LUX), Dietrich Plewa (GER), Andrew Gardner (GBR), Mariette Sanders (NED) and Thomas Lang (AUT).
Swedish Patrik Kittel has no stress for the Olympic race as Sweden is already qualified as a team. Aboard the 12-year old Deja (by Silvano x Don Schufro) he scored 77.100 to win the Grand Prix. His personal best score is 78.00% achieved at the 2015 CDI Hagen almost a year ago.
German Jessica von Bredow-Werndl achieved a personal best score on her rising Grand Prix horse Zaire, a 12-year old Dutch warmblood mare by Son de Niro x Jazz. The pair scored 75.560% to finish second. The improved their personal best mare by a few points, going from a 75.200% achieved at the 2015 CDI Munich Indoor last November.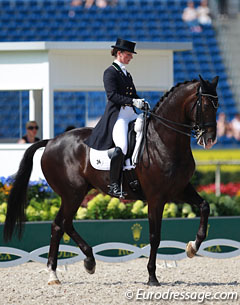 For Ireland's Judy Reynolds Doha is a competitive life-and-death situation for her Olympic dream. She felt her Rio ticket slipping through her fingers after what happened in Lier and expressed her dismay in the newspaper Irish Examiner on Friday 4 March. She believes that the margin of improvement shown by the riders in Moscow and Lier was inordinate.
"Sometimes, you have a bad day and your scores sink, but they had such good scores and you don't show that kind of improvement at that level," said Reynolds, who was not surprised that the FEI did not react to the Moscow score inflation. "The FEI response is to be expected. They have never gone against one of their own, so I did not expect them to start now... I've never heard of them altering a score. It is disheartening to think that we are not competing on a level playing field."
Fortunately for Reynolds she conveniently scored a personal best mark herself in Doha. She placed third with Vancouver (by Jazz) in the Grand Prix with 74.320%, improving on her previous personal record of 73.88% set at the 2015 CDIO Rotterdam. Her marks in Doha ranged from 72.600% (Gardner) to 77.000% (Umbach).
With two more competition days to go and a 4* Grand Prix taking place tonight 4 March 2016 at the 2016 CDI Lier, the current standing for the top 6 individual place for Rio are:
Marcela Krinke Susmelj (1005 points)
Fanny Verliefden (1000 points)
Agnete Kirk Thinggaard (989 points)
Judy Reynolds (977 points)
Inna Logutenkova (964 points)
Goncalo Carvalho (956 points)
Lars Petersen is right behind them with 955 points and Beata Stremler is on 950 points after her Grand Prix today at the CDI Dortmund. Other Rio contenders, such as Belgians Jeroen Devroe and Jorinde Verwimp, can improve on their Olympic ranking with their Grand Prix score tonight at the 4* in Lier.
by Astrid Appels
Related Links
Scores 2016 CDI Doha
Logutenkova Wins Big at 2016 CDI Lier, Olympic Race Scandal Fueled
Editorial: Moscow Madness: The Root of the Root