2015 German Developing Pony Championship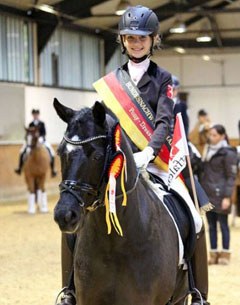 The Witten based 12-year old Nele Löbbert and her pony gelding Rocky became the winner of the 2015 German Developing Pony Rider Championship held in Verden, Germany,on 13 - 15 November 2015. Twenty combinations competed at the indoor Championships, which are considered a stepping stone to FEI pony level.
Löbbert and her 11-year old pony Rocky (by Renoir x Neckar) scored a total of 17.8 points after two L-level tests for which she got a 9 and an 8.8. Judge and commentator Heike Kemmer said that Löbbert stood out with "a very elegant presentation and an excellent giving of aids from the seat. You have a very beautiful pony who might be a bit limited in the movements but who is very secure and light in the contact."
Lisa Friedrichs and No Problem (by Noir de Luxe x Champion de Luxe) became the runner-up with a total of 16,50 points (8.2 and 8.3) , ahead of Helena Schmitz-Morkramer on Proud Rockdandy (by Rocketti x Proud Dandy S) with 16,3 points (8 and 8.3).
The German Developing Pony Rider Championship has been created to promote the
transition of young pony riders to FEI pony level and to scout for
talented pony riders with a potential to make it on a German pony team. Twenty combinations in total contested the
Championships after a training seminar with German pony team trainer Connie Endres in which forty pairs participated.
Complete scores here.
Related Links
Finalists Announced for 2015 German Developing Pony Rider Championship
Jule Marie Schönfeldt Wins 2014 German Developing Pony Rider Championship