British Dressage News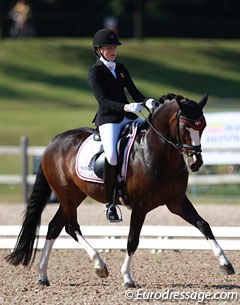 Denmark's 2015 European championships kur bronze medal winning FEI Dressage Pony Farbenfroh has been sold to Sarah and Tony Pidgley of Kilbees Farm in Windsor, Great Britain. Sara van Deurs Petersen's pony will be a schoolmaster for Annabella Pidgley.
The 12-year old German Riding Pony Farbenfroh (by Farewel I x Rakt's Rocky) first came into the spotlight in 2012 under Danish rider Christina Kjeldstrom. In 2013 Sara van Deurs Petersen acquired the dark bay pony and trained him with the help of Cathrine Dufour.
The duo was one of Denmark's highest scoring pairs in the last few years. In 2013 they won bronze at the Danish Pony Championships. In 2014 they finished fourth with the team and 11th and 12th individually at the European Pony Championships in Millstreet. They got silver at the Danish Championships that year. In 2015 they won team and Kur bronze at the European Pony Championships in Malmo. They won gold at the Danish Pony Cgampionships.
Van Deurs Petersen was in her final year on ponies and could not refuse the offer from the Pidgley's. Farbenfroh has already relocated to Kilbees farm in the U.K.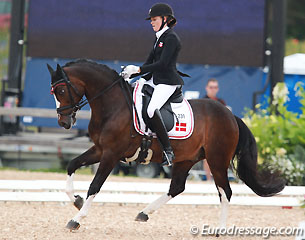 "It has been one off the most difficult things to say goodbye to our lovely pony Farbenfroh," Van Deurs Petersen told Eurodressage. "I can only be grateful for all the wonderful experiences and for the success we had. He is such a lovely pony who always has performed in the arena. I am really going to miss him and all the hours we spent together. But I know that Annabella Pidgley and her family is going to take such good care of him and i hope that they will get just as many amazing experiences with him as we had. To say goodbye to Farbenfroh is also a goodbye to the "pony world". It has been a wonderful time with a lot of lovely people."
Sara will now begin her search for a junior rider's horse.
Photos © Astrid Appels
Related Links
Van Deurs Petersen Wins 2015 Danish Pony Championships
Phoebe Peters Claims Kur Gold with World Record Score at 2015 European Pony Championships