American Dressage News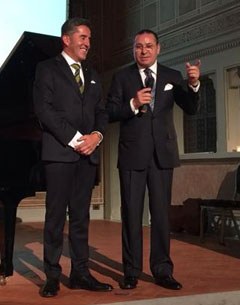 Italian dressage aficionado Nicoletta Ghribi has officially presented her new dressage project, GK Horses, in a lavish, upscale ceremony at the Four Seasons hotel in Florence, Italy, on Friday 9 October 2015. Ghribi and American Grand Prix rider Cesar Parra signed an exciting partnership pact in the U.S.A last June and the co-operation was now officially celebrated in Ghribi's home country Italy.
The driving force behind GK Horses is Nicolettea Ghribi and her Tunisian husband Kamel Ghribi, who heads GK Investment Holding. The power couple has confirmed their trust and co-operation with Cesar Parra and the team of Piaffe Performance for the next five years. 
A small group of judges, veterinarians, trainers, riders, Italian equestrian federation officials and press was invited to a reception and dinner where friends and business partners of GK Invest mingled with an equestrian delegation. Representatives of the international banking world, Cartier jewelry and plane manufacturer Bombardier were honorary guests.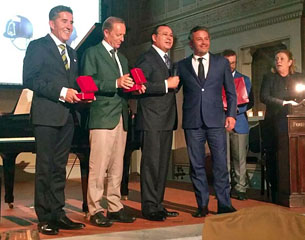 Nicoletta infused the soirée with a strong cultural touch by including live singing by celebrated tenor Telman Guzhevsky, who was accompanied on piano by Elisabetta Sepe. There was also a recital of the Canticle of the Sun by Gianluca Guidotti and Enrica Sangiovanni supported by Francesco Canfailla on the cello.
The stylish evening event included heartfelt speeches by Nicoletta and Kamel as well the handing over of presents by Italian helmet manufacturer KEP Italia and French jewelry company Cartier to Cesar Parra and Italian trainer Alessandro Benedetti. Italian Paralympic World Champion Sara Morganti presented flowers and words of gratitude to Nicoletta in thanks of her commited support of Morganti's road to 2014 WEG individual paralympic dressage gold.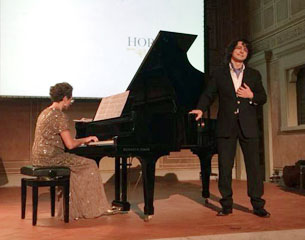 The GK Horses project is a long-term plan aimed at taking Cesar Parra to the 2020 Olympic Games in Tokyo. Although based in Italy with strong roots in the Milan and Florence area, GK Horses has international scope. Not only will it sponsor Cesar Parra on the road to Tokyo, but it will also support the development, coaching and guiding of a select group of carefully hand-picked young dressage riders, who have proven talent and a passion for horses and animal welfare alongside good work ethics, correct morals and a proper, professional code of conduct. The first young rider who has been embraced by the GK Horses U25 project is Spanish Rodrigo Encinas Fuentes.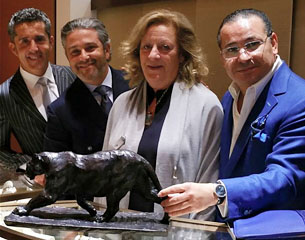 The words of love, passion and dedication rung through the high class soirée in the Salone delle Feste del Conventino at the Florence' Four Seasons.
"I nurtured my project, I really wanted it, I hated it, I came close to abandoning it, but my heart continued to beat, suggesting that, needless to say, love moves and can do anything," said Nicoletta Ghribi. "Sport is a very important vehicle for young minds because it teaches sacrifice, self-denial, discipline and perseverance. It trains the pain threshold and, if expressed in the right way, prepares them for the hardest test there is, that of life."
Ghribi and Parra have worked for three years to conceptualize GK Horses into a sustainable enterprise.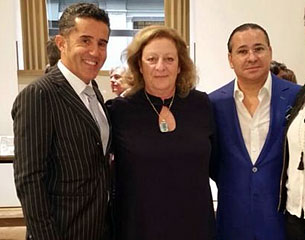 "We look each other in the eye without fear, knowing that we will face and accept victory and defeat with intelligence and sportmanship," said Nicoletta. "Cesar believed in me and Kamel and in a project that could perhaps seem almost impossible to carry out. It is my wish that together we can become an example for the young dressage hopefuls, a responsible and above all attainable example."
Related Links
Cesar Parra and GK Horses Sign Exciting Partnership Pact
Rodrigo Encinas Fuentes to Campaign GK Van the Man in Under 25 Division