2015 Central Park Horse Show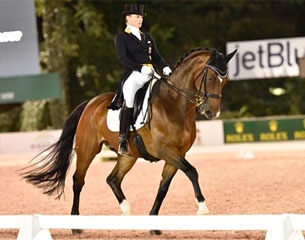 Isabell Werth produced an electrifying dressage performance on El Santo to the delight of the passionate New York fans who packed the stands to watch seven invited riders compete in the 2015 U.S. Open Dressage Freestyle on Saturday night 26 September 2015 at the 2015 Central Park Horse Show.
The U.S. Open Dressage is an unofficial event, not endorsed by the FEI, so riders can not gain any FEI World Ranking Points but compete for cash instead.
Competing under the lights in one of the world's most iconic locations, dressage took the spotlight in Central Park, as returning champion Isabell Werth defended her title, while first-time competitor and six-time Olympian Tinne Vilhelmson-Silfvén rode in New York City for the first time. With a score of 80.33% for her Kur, Isabell Werth topped the scoreboard following her stunning performance aboard El Santo (by Ehrentusch x Rhythmus).
"I am really, really happy that we could do it twice and come back here at this beautiful arena under this outstanding skyline. Always when I start with the music and the pressure, I feel the spectators are awake and coming with me.  I was really happy with 'Ernie' - it was a completely good test", said Werth.
Decorated Swedish dressage rider Tinne Vilhelmson Silfvén came second on her assistant trainer Caroline Darcourt's Paridon Magi. The new duo scored 76.587%. "I'm incredibly excited to be here. As a kid I always loved New York City and enjoyed coming here, but I never imagined that one day I would have the opportunity to ride here," said Tinne. "That was a lot of fun [tonight] and I am going to remember it for a long time. I am extremely proud of my horse."
Summing up the night, third placed Catherine Haddad-Staller said, "Everybody has already put it all into a lot of great words but I think "magic" is the best word to describe it riding here; it's a magical feeling to ride in this atmosphere; it's a magical arena and the crowd response is fantastic".
After the 2014 debut of the Central Park Horse Show, show director Mark Bellissimo was delighted to see the reach and impact of the thrilling event expand to more international talent this year.  "We work hard to make sure the show itself is as special as it can be, but it is the riders who truly make it unforgettable," he said. "We are very proud to present the best in sport across so many disciplines in the heart of New York City."
After scratching her top horse Valegro from the U.S. Open Dressage, World, European and Olympic champion Charlotte Dujardin still gave a masterclass in New York and rode a demo freestyle on a borrowed horse, Evi Strasser's Oldenburg gelding Renaissance Tyme (by Royal Diamond).
Results - 2015 U.S.Open Dressage - Central Park Horse Show Invitational
Kur to Music
1.  Isabell Werth (GER) - El Santo, 80.333
2.  Tinne Wilhelmson-Silfvén (SWE) - Paridon Magi, 76.587
3.  Catherine Haddad Staller (USA) - Hotmail, 74.240
4.  Karen Pavicic (CAN) - Don Daiquiri,

72.125

5.  Charlotte Jorst (USA) - Nintendo, 71,792
6.  Juan Matute Jr (ESP) - Don Diego, 70.708
7.  Lauren Sammis (USA) - Whitman, 66.750
Related Links
Only Eight Pairs to Compete in U.S. Open Dressage at 2015 Central Park Horse Show
Valegro Withdrawn from 2015 Central Park Horse Show