Danish Warmblood Breeding News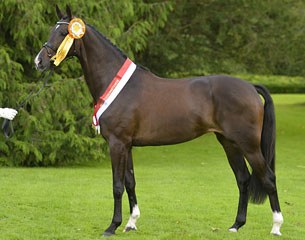 Vestervangs Delicious, Atterupgaards Mildura, Schwarze Schwalbe Macohl and Tophojs Tebaldo became the grand champions of the 2015 Danish Warmblood Elite Mare and Foal Show held in Vilhelmsborg, Denmark, on 29 August 2015.
The 2015 edition became the most successful to date in terms of visitors, participants and turnover at the foal auction following the event.
The Danish Warmblood Elite Show has developed into a major event. In addition to the selection of the champion mares, fillies and foals the Elite Show also features the Elite Foal Auction and the Youngster Cup and not least a national show in dressage and show jumping.
The event which took place on 28-30 August has produced a turnover of 5 million DKK and has had 6,500 visitors during the course of the three competition days. A total of 450 horses have participated and 320 of these were stabled at Vilhelmsborg.
The mares and foals competing for the national champion titles at the Elite Show have all been selected at regional gradings and shows. As there has been a general decrease in the number of covered mares since 2009, the mares and foals at the Elite Show this year represented a small crop of foals.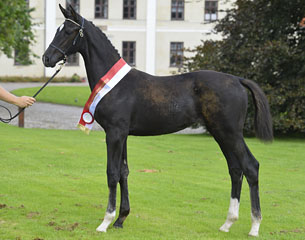 However, there is every indication that the breeders to a higher degree have become quality-conscious and have chosen to only breed with their best mares. The Danish Warmblood breeding committee observed a particular high quality of the foals and mares at the Elite Show this year.

The national dressage champions are:
Dressage Mare of the Year
Vestervangs Delicious (by Temptation x De Noir) - bred by Kirsten Svendsen & Kaj Klavsen.

2 y.o. Dressage Filly of the Year
Atterupgaards Mildura (by Zack x Lord Sinclair) - bred by Atterupgaard.
Dressage Filly Foal of the Year
Schwarze Schwalbe Macohl (by Sezuan x Schwadroneur) - bred by Frank Jensen and Thomas Bach Jensen.

Dressage Colt Foal of the Year
Tophøjs Tebaldo (by Temptation x Don Romantic) - bred Anette Nialusen & Niels-Jørgen Johansen
Photos © Ridehesten
Related Links
Tophojs Tebaldo, Top Seller of 2015 Danish Warmblood Elite Foal Auction
Lillevangs Pari-Diva Named 2014 Danish Warmblood Mare of the Year
Stigma Named 2013 Danish Warmblood Mare of the Year
Fabrix Miss Ésandri, 2009 Danish Warmblood Mare Champion
Bøgegaardens Don Romina, 2006 Danish Warmblood Mare of the Year