2015 Danish Warmblood Foal Auction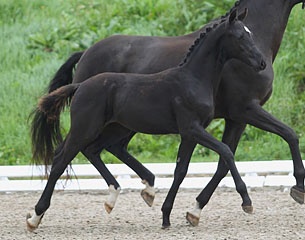 The 2015 Danish Warmblood Elite Foal Auction is characterised by an outstanding lot of 55 hand-picked foals each of which represents some of the strongest dam lines in Danish breeding The auction lot consists of 11 jumping foals and 44 dressage foals adding up to a total of 55 exceptional foals of international quality.
Many of the auction foals are regional foal show champions or runner-up champions and have qualified for the national foal finals at the Elite Show.
The dressage foal lot consists of 29 colts and 15 filly foals. The dressage lot represents internationally sought-after sires such as double Young Horse World Champion Sezuan, individual bronze medallist and team gold medallist at the 2015 European Championships Johnson, former Young Horse World Champion Dimaggio and former finalists in Verden, Charmeur, Franklin, Franziskus and Vincent Maranello as well as classic sires such as Don Schufro, Zack and Fürstenball and popular sires from abroad like Apache, Escolar and Negro etc.
The jumping foal lot consists of 9 colts and 2 fillies by sires Balou du Rouet, Cantolar, Cavall Ask, Colestus, Cornettino Ask, Favorit Ask, Quinton, Untouchable and Zacharov.
A few highlights are:
KAMAR'S EXPRESS NOIR HIT - Dressage colt by Escolar x De Nori x Sandro Hit
This regional champion colt foal is in a league of his own. He possesses extraordinary gaits and moves with great self-carriage and action in knees and hocks. His gaits are very ground-covering and uphill. At the regional foal show he got a 9.5 for trot. Kamar's Express Noir Hit is large-framed, masculine and with the right attitude. His great grand dam is a gold medal mare and foundation mare of a family which has produced numerous top priced auction foals and several stallion prospects selected for the stallion licensing.
VINCI NUMBER ONE - Dressage colt by Negro x Sandro Hit x Wolkentanz II

This large-framed, harmonious and masculine colt foal is also a regional foal show champion. Vinci Number One moves with great impulsion and flexibility and always in perfect balance and uphill. He is a true rubber ball when he moves. His well-composed pedigree stars internationally famous Negro as sire and Sandro Hit as dam sire. Vinci Number One is a foal of very high class with movements out of the ordinary. The dam line has produced several licensed stallions and State Premium mares.
HEILINE'S DIVA ROMANCE - Dressage filly by For Romance x Fürstenball x De Niro

This is another regional champion foal. This exclusive dressage filly foal is noble and very feminine and has an exquisite expression. Her movements are elastic, spacious and with great action and uphill tendency. Heiline's Diva Romance is out of a well-bred Hanoverian dam line with many State Premium mares and licensed stallions. Her grand dam is a full sister of the internationally well-known Celle stallion Dancier. This is a filly with huge potential in breeding and sport.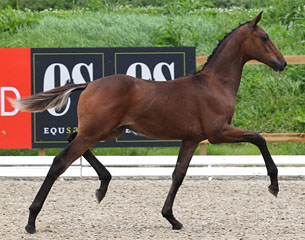 TOPHØJS TEBALDO - Dressage colt by Tailormade Temptation x Blue Hors Don Romantic x Solos Landtinus

Tophøjs Tebaldo is a regional champion foal out of the ordinary. This long-legged and large-framed colt foal is noble and masculine. He moves with absolute supremacy in all three gaits which are supple and ground-covering with good action and elevation. At the regional foal show he got a 10 for trot and 9.5 for canter. Dam as well as grand dam are silver medal mares, and grand dam and great grand dam are both elite mares. The dame line has produced several successful dressage horses.
Phone bidding
Danish Warmblood's Elite Auction will be streamed live on www.clipmyhorse.de, making it very easy to purchase a foal over the phone. However, phone bidding must be agreed upon in advance. Please contact Danish Warmblood (+45 8747 5417) in order to arrange phone bidding, no later than 28 August.

View the auction lot at: http://varmblod.dk/DK/AUKTION/Elitef%C3%B8lauktion/Auktionskollektion.aspx
Photos © Ridehesten.com