2015 European Dressage Championships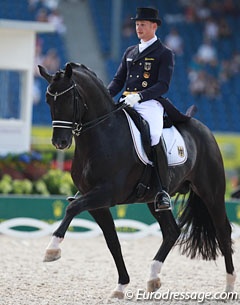 Matthias Alexander Rath and Totilas have withdrawn from further competition at the 2015 European Dressage Championships in Aachen. The German duo, which caused a scandal in Aachen in the team competition, will not appear in the ring for the Grand Prix Special on Saturday 15 August 2015.
Rath and Totilas finished sixth in the Grand Prix team competition with a score of 75.971%, which is close to their all time low mark. The judging of the duo ranged from 71.600% to 80.100% as the horse appeared unlevel with his left hind leg in all three trot extensions, irregular in the passage and uneven in the trot half passes. The German team were the hot favourites for team gold but dropped to bronze after Germany's number one Kristina Sprehe also failed to score above 80%.
Paul Schockemöhle, co-owner of the 15-year old licensed Dutch warmblood stallion, confirmed to German equestrian magazine St.Georg that the horse has been withdrawn from further competition in Aachen.
"The horse was not ok in the Grand Prix. I've seen it as well," Schockemohle told St. Georg. The German stallion owner and business mogul who bought Totilas from his Dutch owners in 2010, saw the Grand Prix on television at home. The German camp is furious that German judge Katrina Wust was amongst the lowest scoring judges, although French Jean Michel Roudier was even lower than her. "It is ok that he gets bad notes for the trot extensions, but there were also many good things," said Schockemohle.
Today Totilas will be examined in an Aachen equine clinic where they will carry out an MRT. The X-rays, taken before the European Championships, were all ok according to Team Totilas.
What the future will bring for Totilas will be decided in the next few days with co-owner Ann Kathrin Linsenhoff. A return to sport will only happen, "when the horse is fit enough to do three tests," as required at all Championships.
Read more at ST. Georg (in German)
Related Links
Scores 2015 European Dressage Championships
Eurodressage On the Scene at the 2015 European Dressage Championships