2015 Bundeschampionate Qualifier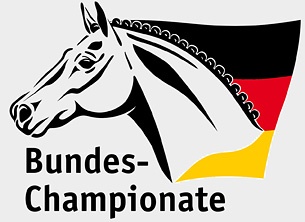 The 5-year old Bellena and the 6-year old Barack O'Bama won the Bundeschampionate qualification classes for dressage horses held at the 2015 Hanoverian Regional Championships in Hanover, Germany, on 15 - 19 June 2015. Sixteen 5-year olds and twelve 6-year olds gathered in Hanover to contest the qualifier.
The 5-year old L-level dressage horse test was won by Esther Maruhn on the Hanoverian mare Bellena (by Belissimo M x Welser). The duo scored a total of 8.3 after receiving 8.5 for walk, 9 for trot and canter, 7 for submission and 8 for general impression. Mike Habermann and the Hanoverian gelding Exclusiv D (by Edward x Donnerschwee) slotted in second with 8.2. The liver chestnut gelding got 8 for trot, 7.5 for walk, and 8.5 for canter, submission and general impression. The pair tied in second place with Wolfhard Witte on Ghandi (by Gribaldi x De Niro). The Oldenburg stallion scored 7.5 for walk, 8 for canter, and 8.5 for trot, submission and general impression.
Antje Kim Wilkens and the Hanoverian stallion Barack O'Bama (by Benetton Dream x Don Gregory) topped the leader board in the 6-year old division with 7.7. They edged out Wenke Tewes on the Trakehner mare Shirin's Diva (by Imperio x Ravel) on 7.6. Two pairs landed third place with 7.5: Lydia Camp on the Hanoverian gelding Fidibus (by Fidertanz x Hohenstein) and Sandra Frieling on the Hanoverian stallion Federer (by Fineliner x Longchamp).
Results - 2015 Bundeschampionate Qualifier - Hanover
5-year olds
1. Esther Maruh - Bellena - 8.3
2. Mike Habermann - Exclusiv D - 8.2
2. Wolfhard Witte - Gandhi - 8.2
4. Franziska Muller - Rikard - 8.0
5. Tomke Mehrtens - Very Fine Lady - 7.8
6. Nicole Klatt Cissee - Della Rose - 7.6
6. Bart Desender - Delacroiwx - 7.6
8. Maxi Kira von Platen - Savoy - 7.5
8. Janina Tietze - Londonfly - 7.5
8. Anne Engelking - Don't Worry K - 7.5
11. Sissy Nadine Braband - S Oliver - 7.4
11. Marieanne Ulbrich - Baroness Bonifatia  - 7.4
13. Raphael Thomas - Lindner - 7.3
14. Stefan Blanken - Lando - 7.2
14. Nicole Deinzer - Sincerely Yours - 7.2
16. Sascha Böhnke - Livaldon - 7.0
6-year olds
1. Antje Kim Wilkens - Barack O'Bama - 7.7
2. Wenke Tewes - Shirin's Diva - 7.6
3. Lydia Camp - Fidibus - 7.5
3. Sandra Frieling - Federer - 7.5
5. Hubertus Hufendiek - Desario - 7.4
6. Andreas Müller - Scoobidooh - 7.3
7. Achim Ostermeyer - Barclay - 7.1
8. Andre Hecker - Ronja - 7.0
8. Maxi Kira von Platen - Baily o Connor - 7.0
10. Rieke Schnieder - Curiosity - 6.5
11. Simone Sewing - Dias de Rio - 6.0
12. Andre Hecker - Dunhill - 5.4
Related Link
Eurodressage Coverage of the 2015 Bundeschampionate