French Dressage News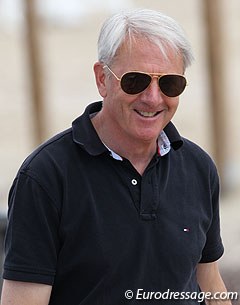 Following the controversial selection of the French team for the 2015 European Dressage Championships, Eurodressage interviewed selector Jan Bemelmans about his decision for Aachen. The French team trainer stressed that he chose young talent and team spirit to represent France at the 2015 European Championships.
Tthe Belgian born German trainer is assisted by Sophie Dubourg (FFE Technical Director) and Emmanuelle Schramm (FFE Technical Director for Dressage) for team selection. They chose Karen Tebar, Arnaud Serre, Ludovic Henry, and Pierra Volla on the team. France's highest ranked rider on the FEI World Ranking List, Marc Boblet, was not picked.
In an interview with the French equestrian magazine Cavadeos, Schramm explained that Boblet's horse Noble Dream is "an excellent mare, but we think that at this moment she is not reliable enough."
Marc Boblet has been competing the Dallara family's Noble Dream, a 13-year old Oldenburg mare by Caprimond x Donnerhall, since 2012. They were members of the French team at the 2013 European Championships and 2014 World Equestrian Games. In 2015, however, the mare's performance level began to go up and down, according to Boblet caused by health issues due to inflamed ovaries.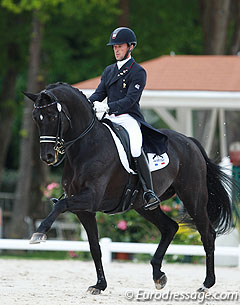 At the 2014 CDI-W Lyon in October 2014 the pair scored 70.360% in the Grand Prix. She was entered for the 2015 CDI Drachten but scratched. At the 2015 CDI Addington in March she scored 69.760%. The mare was then competed at the national show in Jardy in April but was retired from the test. She was given a break and operated on her ovaries to make her return at the 2015 CDI Compiegne in June with a Grand Prix score of 73.200%. At the CDI 3* in Rotterdam she scored 66.860% in the Grand Prix. 
The piaffe is Noble Dream's "bete noir" movement and the mare regularly rears or leaps out of the exercise. Boblet took the horse for a three day training session to Patrik Kittel's in Germany before heading to the 2015 French Championships in Vierzon last weekend, where they won bronze.
Bemelmans underlined that it was a difficult decision to assemble the team considering Boblet's status as number one Grand Prix rider in France and with his experience as a team member.
"Tebar has been very good this season, Serre is always a reliable high scorer. Henry has proven he can score over 70% and Volla has been getting better each show. His horse has developed so well and in Vierzon the mare was superb, everybody said wow," Bemelmans explained. 
The coach added that he and the French selectors clearly decided for reliability as well as giving young, proven talent a chance.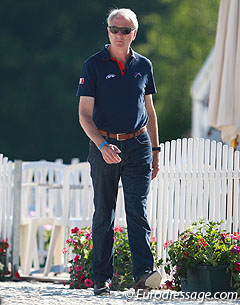 "We knew we took a great risk by selecting this team, but we need to have the courage to support young riders with young horses. This is a big stimulus for dressage in France. It shows that we give up-and-coming and not-so-famous riders a chance. These guys have been working very hard all year long, practising, trying their hearts out and they showed team spirit. They want to achieve it this year, the next year and the next. They are team players and not just riding for themselves. This is also a good decision for Marc. He will now get the time to stabilize his mare and her performances."
Jan Bemelmans was the team trainer for Spain for 16 years before he took up to job for France. He knows the cracking of the whip.
"I remember in 2000 with the selection for Sydney I left out Ignacio Rambla, Spain's number one. They were so mad at me for that. But other riders were given a chance to shine and in the end it turned out to be a great decision. I will not let myself be put under pressure. If I would cave in to pressure from established, famous riders the function of team trainer would be superfluous," Bemelmans stated. "I can make mistakes too, but I am 100% sure that this selection was done right. I did it with my head and not with my heart."
by Astrid Appels
Related Links
Karen Tebar Wins 2015 French Grand Prix Championships
French Team Selection for 2015 European Dressage Championships Not Without Controversy
Photo Report: Boblet and Noble Dream Win on Home Turf at 2015 CDI Compiegne
Noble Dream Gets Competition Break
Jan Bemelmans Hired as French Team Trainer