What's Happening in the Dressage World?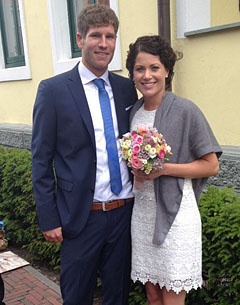 German number one Grand Prix rider Kristina Sprehe (28) married her long-time boyfriend Christian Bröring (29) on Saturday 20 June 2015.
The couple has been together for the past eleven years and got engaged on Christmas night last year.
The pair celebrated their union in a civil ceremony at the town house of Sprehe's home village Dinklage. A church wedding will follow on 22 August 2015 after the European Championships in Aachen. Three hundred guests are invited to the big wedding ceremony.
"I get more nervous when I ride dressage tests. Today my nerves stayed within bounds," Sprehe was quoted saying.
Bröring lives in Lohne, Germany, and is a school teacher and soccer player on a regional football team. After losing a bet, he cycled from his house to London to see his girlfriend ride in her first Olympics in 2012.
Related Links
Kristina Sprehe Gets Engaged
Olympic Dressage Riders Head to Great Britain for the Games