2015 Finnish Dressage Championships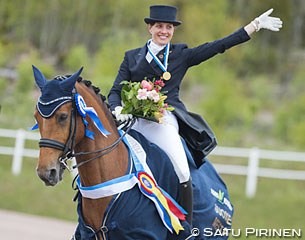 Eevamaria Porthan-Broddell and the 19-year old Danish warmblood Solos Lacan became the winners of the 2015 Finnish Grand Prix Championships held in Mariahamm, Finland, on 22 - 24 May 2015. After scoring 73.25% with their new freestyle program, the Grand Prix title and gold medal were theirs. It was the second consecutive title for the Helsinki based Porthan-Brodell.
Eevamaria and Solos Lacan (by Castro x Lagano) won the Grand Prix on Saturday with 69.200% and topped it off with a 73.250% earning kur that had a high degree of technical difficulty including one handed tempi changes on the centerline. Her music featured Moby's Porcelain and songs from Forrest Gump, as well as a final lyric which says "Tonight we are young."
"I'm an adventurous person," Eevamaria explained after winning the title. "I made the new freestyle last year but the music was ready only a few weeks ago. Many riders use a lot of dramatic film music but I wanted to do something different. In my floorplan every piece has a special meaning and emotion."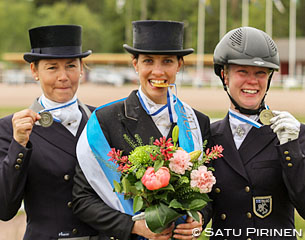 The silver medal went to Elisabet Ehrnrooth on Wizard II (by Wetano x Allegretto) who finished second in the Grand Prix with 67.760 and second in the Kur with 71.050%.
"I'm really happy with my horse. He has developed so well," Ehrnrooth commented. "Now he has seems confirmed at Grand Prix as he stays more constant and there is still room for improvement."
The bronze medal went to Kira Kanerva on the Swedish warmblood Dorazio (by Briar x Sack). She was third in the Grand Prix with 63.340% and third in the Kur with 65.925%. Kanerva trains with Finnish team trainer Emile Faurie.
Photos © Satu Pirinen
Results - 2015 Finnish Grand Prix Championships - Overall ranking
1. Eevamaria Porthan-Broddell - Solos Lacan -  69.200 - 73.250 --- 142,450
2. Elisabet Ehrnrooth - Wizard II -  67.760 - 71.050 ---- 138,810
3. Kira Kanerva - Dorazio - 63.340 - 65.925 --- 129,265
4. Johanna Heikkilä - Adonna - 62.480 - 65.825 --- 128,305
5. Maria Pyykönen - Gladiatr - 59.480 --- 59,460
6. Mikaela Soratie - Royale De Topaz ----  59,340
7. Anna von Wendt - Denzel - 58,220 ----  58,220
Related Links
Respect Your Elders, the Wisest of All WEG Partners
Finnish Team Selected for 2014 World Equestrian Games
Photo Report: Scandinavian Triumph at the 2015 CDI Zakrzow