2015 Bundeschampionate Qualifier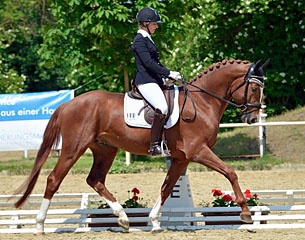 The 5-year olds Ferdinand and Donnabell H and the 6-year old Despereaux won the Bundeschampionate qualification classes held at the regional show at Hofgut Petersau in Frankenthal on Saturday 16 May 2015. The L-level tests were judged by Knut Danzberg and Thomas Kessler, the M-level division was judged by Danzberg and Renate Rahmen. Not a single horse scored high enough to qualify for the 2015 Bundeschampionate.
Eleven 5-year olds contested the L-level dressage horse class. Kim Pfeiffer topped the leader board with a 7.70 aboard Norbert Butzbach's Hanoverian stallion Ferdinand (by Floriscount x Embassy). They scored 7.5 for walk and trot, 8 for canter, 7.5  for submission and 8 for general impression.  Thomas Wagner and the Hanoverian mare Donnabell H (by Don Frederico x Warkant) tied in first place with 7.7. The black mare got 8.5 for trot, 8 for walk, 7.5 for canter, 7 for submission and 7.5 for general impression.
In the 6-year old division Sandra van Loon landed first place with a 7.5 overall score on her own Baden Wurttemberger bred stallion Despereaux (by Don Diamond x Abanos). The liver chestnut stallion scored 8 for walk and trot, 8.5 for canter, 6 for submision and 7 for general impression.  Laura Strobel and Norbert Timm's Trakehner stallion Herakles (by Gribaldi x Michelangelo) tied in second place on a score of 7.4 with Annabelle Manganaro on her own Westfalian mare San Cherie (by San Amour x Mon Cheri). Herakles earned an 8 for trot, 7.5 for walk, 7 for canter and submission and 7.5 for general impression, whereas San Cherie got 7.5 for walk and trot, 7 for canter, and 7.5 for submission and general impression.
Results - 2015 Bundeschampionate Qualifier - Frankenthal
5-year olds
1. Ferdinand (by Floriscount x Embassy I) - Pfeiffer,Kim  - 7.70    40 €
1. Donnabell H (by Don Frederico x Warkant) - Wagner,Thomas  - 7.70    40 €
3. Don Rivero (by Don Diamond x Rivero II) - Schulmerig,Michele  - 7.40    30 €
4. De Valier (by Desperados x Weltmeyer) - Arjes,Kim  - 7.30    25 €
4. Qaitui (by Quaterback x Abanos) - Bechtel,Silke  - 7.30    25 €
6. Rockhampton (by Royal Classic x Baroncelli) - Kirkegaard,Anne  - 7.10   
6. Romanov's Sun (by Romanov x Ferragamo) - Oster,Daniel  -  7.10   
8. Marseille (by Prince Patmos x Cosmir ) - Cherevishnya,Nataliya  - 6.90   
Fürst Rahe (by Floriscount x Weltmeyer) - Fitscher,Anna Christina - RET/DNS
Destano (by Dancier x Fabriano) - Mann,Konrad - RET/DNS
Lord Fittipaldi M (by Lord Loxley x Fidermark) - Menze,Ingo - RET/DNS
6-year olds
1. Despereaux (by Don Diamond x Abanos) - Loon,Sandra van  - 7.50
2. Herakles (by Gribaldi x Michelangelo) - Strobel,Laura  - 7.40  
2. San Cherie V (by San Amour x Mon Cheri) - Manganaro,Annabelle  -  7.40
4. St. Fernando (by Sir Donnerhall x Weltmeyer) - Raadt,Pieter  -  7.20
5. Emeghara FH (by Ehrenstolz x Davignon) - Drath,Isabell  - 7.00   
5. Filona (by Florianus x Weltmeyer) - Menze,Ingo  -  7.00   
7. Diddle Dee K (by Damon Hill x Carnando) - Machat,Julia  - 6.80   
8. Feiner Kerl (by Fürst Piccolo x Dimension) - Wetzler,Charline  -  6.20    
Related Link
Eurodressage Coverage of the 2015 Bundeschampionate