German Dressage News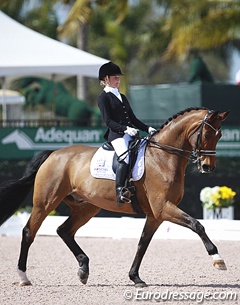 The German equestrian federation and team trainer Hans Heinrich Meyer zu Strohen have announced the names of the twelve riders which have qualified to contest the two German team selection trials for the 2015 European Junior / Young Riders Championships.
Taking the results of the 2015 Preis der Besten into consideration, Meyer zu Strohen picked the twelve candidates which are eligible to ride the team trials in Wiesbaden (23 - 25 May) and Balve (11 - 14 June).
The 2015 European Junior and Young Riders Championships will take place at Bernadette Brune's Domaine Equestre des Grands Pins in Vidauban, France, on 1 - 5 July 2015.
The short listed German Junior Riders are:
Bettina Nuscheler - Fascinate
Franziska Schwiebert - Hogholm's Facel-Vega
Semmieke Rothenberger - Geisha
Hannah Erbe - Carlos
Paulina Holzknecht - Wells Fargo
Lena Charlotte Walterscheidt - Don Henrico
Hannah Cichos - Four Ever
Maike Mende - Rothschild
Kristin Biermann - Zwetscher
Felicitas Hendricks - Faible-As
Rebecca Horstmann - Friend of mine
Alexa Westendarp - Der Prinz
The short listed German Young Riders are:
Vivien Niemann - Don Vertino
Anna-Christina Abbelen - Fürst on Tour and First Lady
Julia de Ridder - Comtessa
Jessica Krieg - Revers Side and Special Edition
Claire-Louise Averkorn - Condio B
Jil-Marielle Becks - Damon Hill NRW
Bianca Nowag - Fair Play RB
Joline Thüning - Don Dayly
Leonie Richter - Babylon
Anna-Lisa Theile - Ducati K
Photo © Astrid Appels
Related Links
Eurodressage Coverage of the 2015 European Junior/Young Riders Championships
Rothenberger and Becks Win 2015 Preis der Besten