2015 World Championships for Young Dressage Horses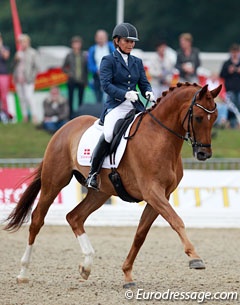 The Danish equestrian federation and its major breed societies announced the first complete long list of Danish horses that have been invited to the first official selection and training event on 23 - 24 May 2015 for Danish team selection for the 2015 World Young Horse Championships in Verden, Germany, in August.
On 2 - 3 May a special two-day observation trial was already hostered where Danish judges Birthe Lyder and Jesper Holst Hansen assessed  young horses which have not yet stood out on various competition circuits last year. Eleven horses made the cut there.
The long list has been completed with the top five ranked dressage horses from the 2015 Danish Warmblood Young Horse Championships in Herning and 2014 Danish Young Horse Championships in Odense.
The complete invitation list for the first selection trial now includes:
5-year olds:
Fiontini (by Fassbinder x Romanov) 
Fiontina (by Fassbinder x Romanov) 
Tørveslettens Fifty-Fifty  (by Fürstenball x Stedinger) 
Safari Klintgaard (by Sunny-Boy x Don Schufro) 
Vadestedet's Daylight (by De Noir x Akinos) 
Heiline's Lord Romantic (by Lancelot x Don Romantic)
Kipling (by Hofrat x Hohenstein)
Hot Spot (by Okavango x Induc)
Højgårdens Sir Chantal (by Sir Donnerhall  x Friendship)
First Ballerina Macohl (by Fürstenball x Schwadroneur)
Springborgs Acaia (by Fürst Romancier x Rubin-Royal)
Atterupgaards Lady Gaga (by Fassbinder x Rubin Royal)
Aschton G (by Ampere x West Point)
Egebjerggaards Dutchmann (by Sandreo x Sam-Sam)
Vincent Maranello (by Zack x Future Cup)
6-year olds:
Hot Shot W (by Hotline x Kawang)
Svalegårds Terra (by Temptation x Stedinger) 
Lady Gaga (by Quaterback x Solos Landwind) 
Gasolin (by Doolittle x Tiberias) 
Uno Double Cream (by Uno Don Diablo x Weltmeyer) 
Sezuan (by Zack x Don Schufro) 
Litvinenko Sjælstofte (by Imperio x Pidroneur)
Hemingway von Hestebjerggaard (by Hibiskus x Monteverdi)
Drisdal's Co-Co Chanel  (by Temptation x Uffe Korshøjgård)
Strækningens Delmondo (by De Noir x Michellino)
Adrenalin Firfod (by Skovens Rafael x Adrenalin Firfod)
Atterupgaards Capirossi (by Caprimond x Stedinger)
Photo © Astrid Appels
Related Link
Eurodressage Coverage of the 2015 World Young Horse Championships