American Dressage News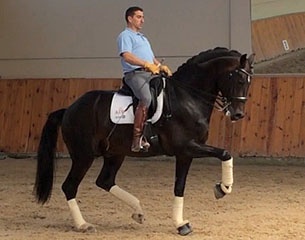 A syndicate of American high performance dressage aficionados, headed by Akiko Yamazaki, has acquired the 8-year old Hanoverian stallion Sandronnerhall in Spain as future Grand Prix horse for U.S. Olympian and WEG team rider Adrienne Lyle.
Born in 2007, Sandronnerhall is bred by Joachim Essink from Stockach, Germany. He is by Sandro Hit out of Dynastie (by Donnerhall x Brentano II x Imperator).
The 8-year old stallion was first competed by his owner Susana Vazquez Mostaza as a 5-year old with starts at the international shows in Vejer de la Frontera and Toledo in 2012. One year later Antonio Diaz Porras continued the horse's competition career and showed him in the international  6-year old young horse classes at the CDI's in Toledo and Madrid. The pair qualified for the 2013 World Young Horse Championships but did not travel to Verden for the show. Diaz Porras schooled Sandronnerhall up to green Grand Prix level.  
Sandronnerhall was scouted and discovered by German horse dealer Jochen Arl for Akiko Yamazaki, who has now purchased her fourth FEI level horse through Arl in two years time (Rosamunde, Chopin, and Donavan). This is also the second rising Grand Prix horse that Antonio  Diaz Porras has trained and which Arl has sold abroad. Two months ago he sold Bojangles to Dr. Jorge da Rocha in Brazil.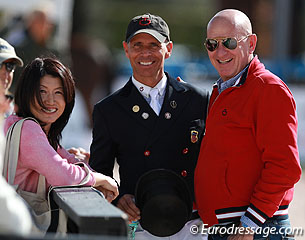 "We are grateful to Jochen to have found us this extraordinary young stallion, who is talented and beautiful. It is very exciting," said Akiko Yamazaki. "Adrienne has proven to be a great Team USA member. She competed as an individual in 2012 London Olympics and gained great experience and at the 2014 Normandy World Equestrian Games she contributed greatly towards the US 4th place finish which was much higher than everyone expected."
The 30-year old Lyle and her long-time trainer Debbie McDonald travelled to Madrid, Spain, to try out Sandronnerhall on location in March and immediately fell in love with him. Lyle's top horse Wizard was retired from competition last January and the 30-year old rider had no immediate FEI level replacement at hand.
Sandronnerhall has been acquired by the syndicate Sandronnerhall Partners LLC, which is led by Akiko Yamazaki and managed by Jen and Bruce Hlavacek, owners of 2011 U.S. Pan Am team and individual gold medal winning Weltino's Magic. Other investors include Betsy Juliano, Elma Garcia-Cannavino and Jim Cannavino.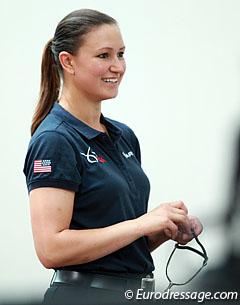 "Besides finding a potential top high performance horse for Adrienne, we wanted to create an example of how a group of like-minded owners could come together to support top US riders with the best dressage horses possible," said manager Bruce Hlavacek.
The horse arrived in Miami, Florida, on the weekend of 8 - 10 May 2015 and did his three mandatory days of airport quarantine, before continuining the stallion quarantine process in Wellington, FL, the next two months. Afterwards the horse will move to River Grove Farm in Sun Valley, Idaho where Lyle and McDonald are based for the summer.
There is no deadline set on the new partnership between Lyle and Sandronnerhall. "There is no fixed date about how long Adrienne will ride the horse," Akiko told Eurodressage. "We would be delighted if they could be part of Team USA for Rio. As the stallion is only 8 years old, we hope he will also be contender for other events such as WEG 2018 and maybe even Tokyo 2020 but as you know with horses, it is always one day at a time! All you can do as an owner is to put the best team together and wish for a little good luck."
Photos © private - Astrid Appels
Related Links
Adrienne Lyle's Wizard Retired from Competition
Antonio Diaz Porras' Bojangles Sold to Brazil
Akiko Yamazaki Acquires FEI Prospect Donavan
Akiko Yamazaki Buys Herself a Christmas Present, Chopin
Rosamunde Sold to Akiko Yamazaki