Swedish Dressage News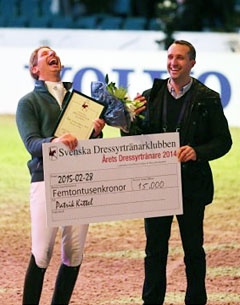 Swedish Grand Prix rider Patrik Kittel was honoured as the Swedish Dressage Trainer of the Year 2014 at the World Cup qualifer in Gothenburg, Sweden on Friday 27 February 2015.
Kittel has a long string of Swedish students which have excelled during the 2014 show year. Amongst his proteges are Swedish WEG team member Jeanna Hogberg, Swedish Grand Prix riders Rose Mathisen, Mads Hendeliowitz, and Australian WEG team listed riders Lyndal Oatley, Mary Hanna, and Briana Burgess.
"It was a huge honour to receive the Swedish trainer award this year," said Kittel "I am super proud of all my students and their successes and am really enjoying my time off the horses these days with so many great riders to
work with."
Kittel, who recently also received the Swedish A-trainer certificate, gave a clinic in Gothenburg with Rose Mathisen and the KWPN stallion Zuidenwind as demo riders.
Patrik was awarded a cheque of 2,000 euro (15,000 SEK) which he donated towards the Swedish effort to bring Under 25 riders to the CDIO Rotterdam in June.
Photo © private
Related Links
Cornelissen Edges Out Kittel in 2014 CDI Mechelen Grand Prix
Patrik Kittel Re-invited as Test Rider for 2014 Swedish Young Horse Championships
Kittel and Deja Make Winning International Grand Prix Debut at 2013 CDI Mechelen
Patrik Kittel and Deja Dominate Despite Some Detours at 2013 CDI Hagen