American Dressage News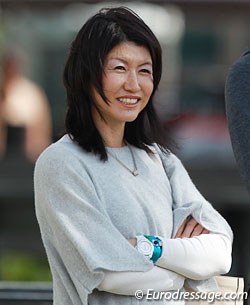 Akiko Yamazaki, owner of Four Winds Farm and long-time sponsor of America's number one Grand Prix rider Steffen Peters, has acquired the 7-year old Dutch warmblood Donavan as FEI prospect.
After purchasing the Grand Prix sensation Rosamunde for Steffen and the 8-year old Chopin for herself, Akiko has now acquired her third talented dressage horse in a row through German horse dealer Jochen Arl.
The chestnut gelding Donavan is a Dutch warmblood by Vivaldi x San Remo. He was trained by Dutch Jeanine Fiechter from third level to Prix St Georges in 2014. Donovan has been lightly competed in The Netherlands and is showing talent for Grand Prix.
After Steffen tried out the horse first, Akiko came over to Europe to test ride Donavan herself and immediately fell in love with the horse.
"He and I immediately clicked. Of all the horses that I have tried, I must say he was the easiest for me to ride and he seemed to understand me right away," Akiko told Eurodressage. "It helps very much that he is very forward, sensitive and has great balance already."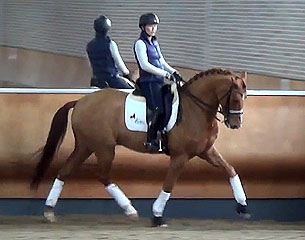 Donavan left Europe on Tuesday 24 February 2014 and went straight to Steffen, who will train him for another two to three months to consolidate the movements on him. Afterwards, Akiko will continue to ride him at her own yard in Woodside, California.
Yamazaki is a dedicated competition rider, horse owner and sponsor. She was the winner of the Prix St. Georges Adult Amateur Championship at the 2013 U.S. Dressage Finals.
Photo © Astrid Appels
Related Links
Akiko Yamazaki Buys Herself a Christmas Present, Chopin
Rosamunde Sold to Akiko Yamazaki
Yamazaki, Truebenbach and Graves Take Sunday's FEI Titles at 2013 U.S. Dressage Finals
De La Noche, Tristan, Matrix Sold to Akiko Yamazaki