2015 CDI Wellington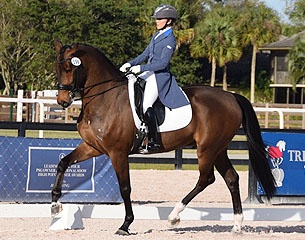 American power dressage duo Scott and Susanne Hassler have found their competitive edge, returning to the show ring with promising FEI mounts. Susanne Hassler has a potential team candidate to ride in her new star horse, Boitano, whereas Scott recently resigned as USEF Young Horse Coach to free up more time to be a trainer and competition rider.
Scott and Susanne Hassler have been a true power couple on the American dressage scene. After being head trainers and managers at Hilltop Farm, they took their careers to the next level by becoming deputy directors of Harmony Sporthorses at the Malone family's equestrian centre Riveredge in Chesapeake City, Maryland. After a long search for a fitting world class horse, Susanne has found her match in the Grand Prix level trained Boitano for a potential international break through.
Scott and Susanne are proving they mean business in the show ring. On 6 - 8 February 2015 both competed in the national classes at the 2015 Global Dressage Festival in Wellington, Florida. In their first trip down the center line Susanne Hassler and Harmony's Boitano scored a winning 70% in the Developing Prix St Georges class. On their second outing last weekend they upped the bar and finished on a whopping 75.3%.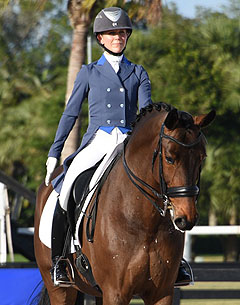 "I truly think this is just the beginning of what this wonderful horse is capable of," Susanne Hassler told Eurodressage. "I'm feeling so fortunate to have the opportunity to be his rider."
Susanne is gelling quickly with the rising 9-year old Dutch warmblood Boitano (by Santano x Whinny Jackson) which arrived in Florida on 31 December 2014. The Malones purchased him from German Jochen Arl, who had originally acquired the bay gelding as second ride for his junior rider daughter Antonia. However, the 14-year old has been focusing on the experienced Equestricons Ziggy and is a strong Belgian junior team contender. Combining her school duties with riding two horses was too time-consuming for Antonia, so Jochen kept Boitano in training with his partners Anne Lena Holmen and her husband Hubertus Hufendiek before selling him to the U.S.A. Anne Lena is now riding the talented 7-year old Ibanero (by Belissimo M x Weinzauber).
"Boitano and I are aiming to become a solid team this year, competing on the small tour and most definitely aiming to be top contenders for the Developing PSG Championships," said Susanne. "Once we get his FEI passport in place, we hope to enter a couple CDI's here in Florida. While we are considering all the competitive goals available for us this year, we are primarily interested to continue to educate and strengthen Boitano for the Grand Prix so that we will be ready to participate in the Developing Grand Prix program next year. He is developing a very special piaffe and makes beautiful passage. He understands the ones and only needs more strength and balance for it to all come together."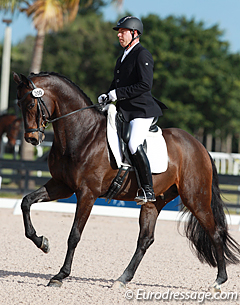 Scott Hassler has also put his words into action and is pursuing his own competitive career after resigning as young horse coach. He has presented Harmony's 8-year old Oldenburg gelding Diamo Gold (by Dimaggio x Ex Libris x Grundstein II) in the USEF Third Level tests twice and recently won the class as sole entry with 71.364%. Scott is also focusing on developing Harmony's 8-year old Oldenburg bred Star Agent (by Sandro Hit x Argentinus).
"Diamo Gold was originally purchased for me to ride," Hassler explained. "However Scott and he are a perfect match. When our business partners offered us full support to focus on our competitive careers, the decision was made to geld Diamo so that he would have the optimal opportunity to become a top sport horse. We really believe in this horse but he also needs time, education, and strength. He will be well worth the invested time and energy and is already showing great quality in sport."
For the winter the Hasslers are based at Four Winds Farm in Wellington after a long absence from the Florida winter circuit. "It's very exciting to return to Wellington after our long hiatus (16 years--essentially while our girls grew up and finished high school) and it's quite amazing how the whole scene has developed. We both are extremely grateful to have the support to look for top horses and hopefully, with luck, we'll be able to build up a solid, competitive string! It is such a blessing to be able to focus fully on the sport at this stage of our lives and, already, we are having so much fun," Susanne concluded.
Photos © Cory O'Connor - Astrid Appels
Related Links
Hassler Dressage Returns to Wellington With a Winning Start In Markel/USEF Developing Horse Program