2015 Van Olst Sales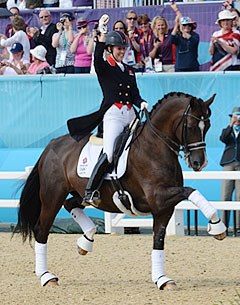 Van Olst Horses will be hosting Van Olst Sales, a brand new auction of young sport horses at their equestrian centre in Den Hout, The Netherlands, on Friday evening 3 April 2015. Van Olst Sales includes approximately 20 carefully selected, talented 3-year old dressage geldings.
All sport horses auctioned at the 2015 Van Olst Sales are reared at Van Olst Horses. This Dutch stallion centre and breeding station is renowned for rearing high quality youngstock with world record holder and Olympic champion Valegro (by Negro x Gershwin) as prime example. Van Olst acquired Valegro as a foal, reared him in Den Hout and sold him as a 3-year old gelding to Carl Hester.
Other top examples of youngstock reared at Van Olst are British WEG team silver medal winner Nip Tuck (by Don Ruto) and Grand Prix horses Numberto, Nintendo, Netto, Zidhane, Taikoen, etc. Top stallions such as Chippendale, Diego, Everdale, Fairtyle and Glamourdale were also bred and/or reared by Van Olst.
Youngstock reared at Van Olst has been professionally handled from foal to young horse. Van Olst takes diligent care of young talent growing up. They do a strict quality control and make a selection based on potential, health and character.
Detailed information about each 2015 Van Olst Sales' youngster, from foal to 3-year old, is available.
This is a unique opportunity for riders and owners to acquire in a safe environment a young, talented future prospect with all information about the horse at hand.
More information about the collection will be available in February on www.vanolstsales.com