Eurodressage F.O.C.U.S.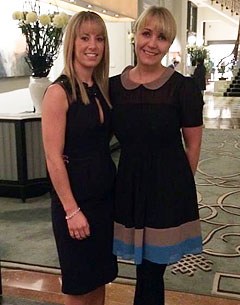 In the equestrian world one often hears about the vital teams behind riders; such as the trainers, the grooms and the yard staff. However there is also a type of team behind some riders that is quietly delivering new kinds of support for their clients. For 32-year old Abby Newell, managing the business affairs and public relations of an international dressage superstar such as Charlotte Dujardin has few secrets or sudden surprises. Heading her own company Piaffe, Newell knows the tricks of the trade on how to bring in sponsorship deals for riders and present the image of a rider and the sport of dressage into mainstream media.


Abby is by far no rookie of the trade. After graduating from university she worked under the guidance of Sally Fischer, CEO of Sally Fischer PR in New York, where she learnt the principles of public relations. By assisting on events and staging a fashion exhibition at the Guggenheim Museum, Newell garnered early experience in the art of how to protect and grow a brand and has remained friends with Sally to this day. On returning to the UK, she then spent many years working for major record labels such as Sony Music, moving onto working for Warner Bros and then with entertainment clients across the board.
"I have just spent the last two years working for a leading Creative Agency in London, who create marketing and advertising campaigns for high profile entertainment IP, including The Hunger Games, X Men, Assassins Creed and for many TV programmes and brands. Through that I have experience in marketing, strategic partnerships and brand guardianship," Newell told Eurodressage.
Curious to know if Abby has a background with horses Eurodressage learned that she has been a dressage aficionado since she was very young. She returned to horse ownership and riding again five years ago after a break, putting herself back into the saddle of a lovely schoolmaster. Through training with Rebecca Hughes, Abby gained the confidence and horse power to move up from elementary to being able to ride at advanced level, something she is very proud of, given the job didn't allow her to ride as much as she would have liked.

Managing a Super Star, Charlotte Dujardin
Abby's most prolific client is Olympic, World and European champion Charlotte Dujardin. The relationship evolved through Charlotte's mother Jane who made contact with Abby after she had sourced Charlotte's coat from a leading fashion designer for the OBE ceremony at Buckingham Palace in 2013.
"I never set out to be an agent as such," Newell admitted, "but as the pressures were growing for Charlotte, her mum, dad and sister met with me and thought she needed someone to help with her career and sponsorships, who had experience from a different sector. Someone who understands what its like to work with high profile individuals."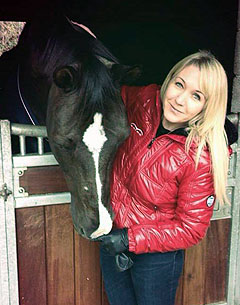 Abby seems very grateful that the family took a chance on her and what started as a working relationship with the world number one, has now also developed into a friendship. Working with one of Britain's most renowned sport athletes is an intensive job, especially in December with a string of award ceremonies on the agenda to help organise.
"Charlotte and I are in a great working rhythm. I don't get involved with the training or her teaching, but oversee her business affairs such as sponsorships, charity work and her PR. Anything outside of competitions such as award ceremony attendances and so forth, I'll work with the broadcasters whom I know, to ensure they get what they need with the filming and the press that is scheduled," Newell explained.
Abby's strength and core business lies in creating sustainable revenues and partnerships between riders and brands/companies in the equine world and she is developing this with brands in the non-equine space. In the case of Dujardin, Newell assists Charlotte with her time management for various media and business opportunities.
"I speak with her sponsors several times a week to see what products they have that are new and what creative ideas we can come up with to help drive both parties' objectives," said Newell about her day-to-day duties for Charlotte. "There are also regular photo shoots to arrange and a lot of media and clinic requests come in, meaning several hundred emails a week. Charlotte and I also spend time reading all the well wishes from the fans, particularly the younger ones who draw pictures for her and handwrite notes. There are often tears I can tell you."
Abby is passionate about assisting Charlotte in spreading a positive image of dressage into the mainstream and raise popularity of the sport in the U.K. and abroad.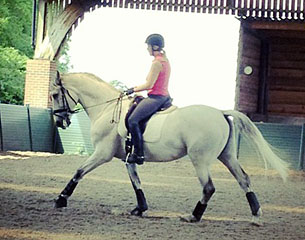 "Charlotte knows that she is a position to make the sport even more mainstream and we look at many ways we can help do this, such as getting her coverage in broadsheets, working with broadcasters, as well as how she can develop and inspire young people, which is really important to her. She is also keen to align with some charities in 2015 and we'll be looking at this very early on. We have many ideas everyday and we are very excited about shaking things up even more in 2015," said Newell. 
Piaffe
Coming from a background that is not strictly equine, Abby has gained great expertise having worked for companies that target an audience of millions through the music and movie industry. With her deep understanding of building a brand, audiences, and how careful you have to be when protecting that brand particularly on social media, Abby believes there is little difference between working with entertainment clients, recording artists or with clients in the sporting world.
"As success results in more recognition, the pressure is on famous personalities to conduct themselves in the right way, understand their responsibility to their fans and look at ways of giving back," Abby stated. "The principles of guarding a public profile and creating sustainable careers for the athletes or talent remain the same."
Newell reveals herself to Eurodressage as a stand-out from other PR professionals with what seems to be a relentless energy and commitment to achieving her goals.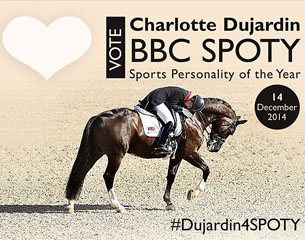 "It's because I have a deep respect for how precarious life is and want to enjoy every minute of it, including my work," said Newell. "Networking and making new contacts is also a way of life for me and beyond the prerequisite of any role. I enjoy building connections across the entertainment, fashion, sporting and television worlds and connecting the dots to make things happen when I can, such as the recent partnership you covered on Eurodressage between the fashion designer Mary Wing To of Chanel and Charlotte; a partnership I hope will grow."
Besides Dujardin, Abby's Piaffe has been able to sign several other talented dressage riders, such as British National Champion Jo Hamilton, 2014 European bronze and silver pony medalist Alexandra Hellings and international rider Olivia Towers. Abby also just started working with British number one Young Rider Olivia Oakeley and she will be developing the  strategic positioning of the prolific Mount St John Stud in the UK, alongside select brands such as Cheltenham Dressage and bespoke tailcoat makers Flying Changes.
"Long term I am looking at also bringing entertainment clients into Piaffe. It would be great to evolve it one day into a company like Roc Nation who work in sport and entertainment with tremendous success. During my tenure at Sony Music, I worked with artists on the Roc Nation roster and as a company, they are so driven and are masters of building their clients' careers and brands."
For now Abby looks ahead to 2015. "There is a lot of scope in the equestrian world to do great things and as we all collectively work to bring more mainstream eyes to the sport, I hope it will inevitably open more doors for riders and investment into the various disciplines," she concluded.
For more information contact abby@piaffe.co.uk or see the website www.piaffe.co.uk
Related Links
Charlotte Dujardin and Alexandra Hellings to Collaborate with Queen's Master Saddler Protegee Mary Wing To
Dujardin Shortlisted for BBC's Sport Personality of the Year Award
Dujardin Invests in Future Stars of Dressage from Mount St. John
What's Happening: November 2014