Danish Warmblood Breeding News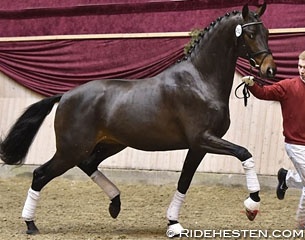 Twenty-five dressage colts were selected to participate in the 2015 Danish Warmblood Stallion Licensing in Herning in March 2015 following the pre-selection in Vallensbaek on 14 December 2014 and in Vilhelmsborg on 17 December 2014.
A collection of 54 dressage bred 2,5-year old colts was presented at the two pre-selection days. Twenty-seven of them passed after the hard surface face and 25 ended up being selected for the Licensing after the in freedom phase.
Blue Hors stud's Dutch warmblood stallion Zack (by Rousseau) became the top producer with five offspring selected for Herning.
The selected dressage colts are:
Tailormade Attraction (by Attention x San Remo)
Bodyguard (by Belissimo M x Aljano)
Lammehavens Brother (by Boney M x Landtino)
Dark Legend (by Dancier x Sandro Hit)
Hesselhoj Donkey Boy (by Dancing Hit x Milan)
Noble Hit (by Dancing Hit x Don Romantic)
Dreamline Kilen (by Don Olymbrio x Hotline)
Jestis Furst Ebano (by Furstenball x Weltjunge)
Strandagergards Furstfahrenheit (by Furstenball x Sam Sam)
Abkaers Geronimo (by Gribaldi x Rosevelt)
Jackpoint (by Johnson x Welt Hit II)
Carlos (by Romanov x Cavan)
Romador Elton (by Romanov x Matador)
Skovgards Sorento (by Sieger Hit x Leandro)
Salut Halsnaes (by Temptation x De Noir)
Gorklintgards Torrero (by Temptation x Sunny Boy)
Dortheasmindes Twis (by Touch Me x Sam Sam)
Stenagers Wyatt Earp (by Wilkens x Sandro Hit)
n.n. (by Zack x Donnerhall)
Ringsbo's Zackxobeat (by Zack x Future Cup)
Zandor (by Zack x Romanov)
Straight Horse Zarastro (by Zack x Romanov)
Vojenslunds Rambo (by Zack x Diamond Dancer)
Zun Dance (by Zonik x Eskadron)
Kamar's Lord Noir (by Lord Loxley x De Noir)
Photo © Ridehesten
Related Links
Galaxy Win T, Champion of the 2014 Danish Warmblood Stallion Licensing
Dujardin Invited as Guest Judge Rider at 2015 Danish Warmblood Stallion Licensing