2014 Japanese Dressage Championships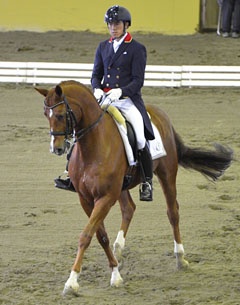 The 29-year old Shingo Hayashi became the 2014 Japanese Grand Prix dressage champion at the National Championships held in Gotemba, Japan, on 28 - 30 November 2014.  Aboard the 17-year old Dutch warmblood gelding Peter Pan (by Gribaldi x Oldenburg) Hayashi won the Grand Prix class to earn his first national title.
The "All Japan Dressage Championships" were held for the 66th time. An panel of judges with two international judges served as ground jury.  It included Kiyo Ogawa (JPN), Junichi Hiraoka (JPN), Mary Seefried (AUS), Marika Tsukigawa (JPN) and Alison King (HKG).
Normally the Japanese dressage championships are contested over two rounds, the Grand Prix and the Kur. Extreme weather conditions made the Gotemba show organizers change the schedule as very strong rain and wind hit the venue and made competition difficult. All classes were scratched and the Grand Prix was ridden on the kur day on Sunday 30 November 2014.
Hayashi, who is a two-times Japanese team member having competed at the 2010 and 2014 Asian Games, scored 64.500% in the Grand Prix with Peter Pan, a horse formerly owned and ridden by Beatriz Ferrer-Salat in Spain. Hayashi beat 2012 Japanese dressage champion Yuko Kitai on the chestnut Golden Coin.
This experienced duo Kitai/Golden Coin finished on a 63.940% score. Kitai's Golden Coin is a horse with a very interesting background. The Bavarian bred chestnut was originally called Wyatt Earp (by Weltrang L x Donnerhall), but when Dane Rawlins' sponsor bought him, his name was changed to Wily Earl. This same horse miracously popped up in Japan in 2009 after being sold through Germany as a Belgian warmblood with no listed pedigree, a different breed and three years younger than Wyatt Earp/Wily Earl.
The bronze went to 40-year old Naomi Asanuma on the 13-year old Dutch warmblood gelding Don Perignon with 63.260.
Photos © Azusa Kitano
Results - 2014 Japanese Dressage Championships
Grand Prix
Judges: Ogawa, Hiraoka, Seegried, Tsukigawa, King
1. Shingo Hayashi - Peter Pan - 64,500
2. Yuko Kitai - Golden Coin - 63,940
3. Naomi Asanuma - Don Perignon - 63,260
4. Hiroshi Watanabe - Beks - 62,040
5. Kazuya Tsuge - Rangoon - 60,520
6. Aki Momono - Fairy Tale - 60,180
7. Kiichi Harada - Egistar - 59,820
8. Yoshie Ota - Pace - 58,880
9. Hirohiko Koyanagi - Visconti - 58,560
10. Kazuhiko Miyagawa - Nero de la Fazenda - 57,620
11. Kazuo Maezawa - Argentina - 56,840
12. Haruka Koike -Port Rico - 56,580
13. Kazuya Shiraishi - Fanta Bejart - 54,660
14. Naoko Sakurai - Hohen Lohe - 54,36
Toshihiko Kiso - World Fire - DNS
Takanori Ban - Byron - DNS
Related Links
Christoph Koschel, Keynote Speaker at 2014 Training Course in Gotemba, Japan
Mieko Yagi Wins 11th Japanese Dressage Champion's Title
Yuko Kitai Claims 2012 Japanese Dressage Champion's Title
Peter Pan Sold to Japan