Eurodressage F.O.C.U.S.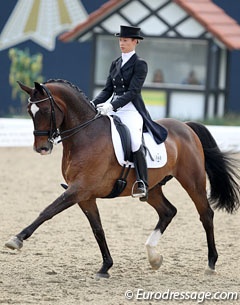 Australian Grand Prix rider Briana Burgess has had a very exciting and busy 2014. While an injury prevented her from the WEG experience of a lifetime, it gave the 26-year old the time and space to plot the next step in her career as a young professional dressage rider. Burgess has established her own training and sales facility in Munster, Germany, and is now looking forward to a bright future permanently based in Europe.
For Briana the year 2014 was highlighted by a very successful first season in Grand Prix aboard her own 16-year old Rhinelander gelding La Scala (by Lancer II x Rembrandt). They kicked off their international Grand Prix debut at the CDI Roosendaal indoor in December 2013 with a third place finish and 70.213%
"La Scala and I were able to do some very nice shows in Drachten, Vidauban, Hagen and Fritzens this year and coming into contention for the Australian team for the World Equestrian Games was a very big achievement for us," Briana told Eurodressage.
The WEG Set Back

The Australian team selection process is known to be a testing one for riders and horses and for Briana it was a completely new experience. She was lucky enough to have the excellent support of her trainer, Patrik Kittel, his wife Lyndal, as well as her own family.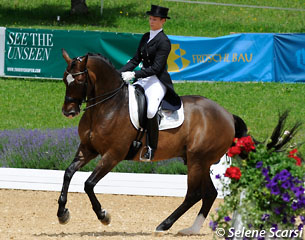 "The focus in the lead up to WEG was on riding, training and improving. No pressure, just one step at a time," she said.
After competing at only one of two Australian WEG selection events, Briana was not nominated on the team, but through an appeal she got her spot on the team. Regrettably La Scala sustained an injury prior to Australia's second nomination event in Deauville (France) which prevented her from taking part at the World Equestrian Games. This major set back of missing out on her first WEG was an unforeseen obstacle Briana had to overcome.
"When riding in horse sports most riders are aware that at some stage our horses may sustain an injury. It was unfortunate of course that it happened at this time. However we move forwards and look to the future," Briana explained.
Settling Down in Europe, Branching Out in Munster

Burgess jumped the puddle and moved from Australia to Europe seven years ago. She first worked for Monica Theodorescu for three years, working her way up from groom to accomplished rider. She began her training on La Scala with Patrik Kittel last August and commuted from her base in Osnabrück to Appelhulsen regularly via the busy A1 motorway. There was a lot of driving backward and forwards that turned out to be too time consuming.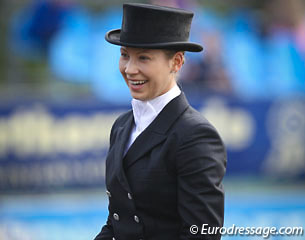 "It was just not practical anymore, so I was really happy that I found an excellent stable in Münster owned by Simone Lynch where I could develop my business and bring it to the next level.  We have excellent facilities here ideal for sport horses, horse training, and clients. I very much enjoy teaching my students as well as bringing on horses for competition and sales."

Making the definite decision to set up shop in Europe, Briana is excited to have found a good stable where she can expand her business possibilities. She does not expect to return to Australia any time soon.
"I think the British and the Americans have proven that it is no longer an absolute necessity to train in Europe if you want to be competitive in dressage, but without a doubt it is where the majority of the action for horse sports is happening."
A typical day in the life of Briana involves training both her own and her clients' horses, which range from 3-year olds up to Grand Prix level ones. She has also adjusted well to daily life in Germany.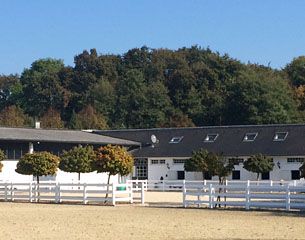 "In the beginning of course it was very different for me with the new language and new surroundings here in Germany," she said. "Naturally I also miss my family, but they come to visit once a year and I try to get back to my home in Australia towards Christmas time."

With La Scala now back in very good shape, Briana expects him to be back on his competition game early in 2015 and the youngster will also be busy training the horses for herself, and for sale, at her new stable.
by Sarah Warne - Photos © Astrid Appels - Selene Scarsi
Related Links
Burgess Withdraws from Australian WEG Team, Tomkinson Back on Team
Burgess Wins Appeal, to Replace Tomkinson on Australian WEG Team if La Scala Passes Vet Check
Briana Burgess and La Scala Join Australian Elite Dressage Squad