2014 World Equestrian Games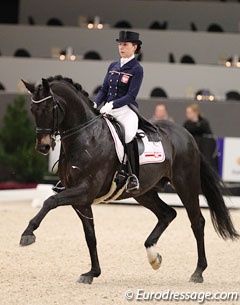 No less than 103 riders have been definitively entered to compete at the 2014 World Equestrian Games in Caen, France, on 25 - 29 August 2014. The FEI reported that the number of entries is exceptionally high and breaks the previous participation records. Dressage has increased from the record numbers set at the 2006 World Equestrian Games in Aachen.
The breakdown for dressage is as follows:
DRESSAGE
Total National Federations (NFs): 31
NFs with teams: 25
AUS, AUT, BEL, BRA, CAN, DEN, ESP, FIN, FRA, GBR, GER, IRL, ITA, KAZ, LUX, NED, NOR, POL, POR, RSA, RUS, SUI, SWE, UKR, USA
NFs with individuals only: 6
COL, EST, GEO, KOR, MAR, PLE
103 combinations
Previous record: 89 combinations from 33 countries (Aachen, 2006)
Teams and individuals not yet announced on Eurodressage include:
Brazil
OLIVA, João Victor  - Signo Dos Pinhais
TAVARES DE ALMEIDA NETO, Manuel -  Viheste
TAVARES DE ALMEIDA, Luíza  - Pastor
TAVARES DE ALMEIDA, Pedro  -  Samba
Estonia
BARAKE, Grete -  Talent
ELLERMANN, Dina  - Landy S Akvarel
Georgia
Vaughan, Joanne - Elmegardens Marquis
Kazakhstan
BOUMAN, Janette - V.Power
BUIKEVICH, Sergey - Ispovednik
YURKEVICH, Natalya -  Donpetro H.L.
Korea
KIM, Dong-Seon -  Bukowski
Luxembourg
ERPELDING, Diane  -  Woltair TSF
HENSCHEN, Veronique -   Fontalero
SCHULZ, Sascha -  Wito Corleone 2
Poland
LUKASIK, Anna  - Ganda
SKOWRONSKA, Zaneta -   Mystery
STREMLER, Beata  -  Rubicon D
Russia
AFRAMEEVA, Marina -  Vosk
DOROFEEVA, Tatiana   - Upperville
MERKULOVA, Inessa -  Mister X
SIDNEVA, Elena -   Romeo-Star
South Africa
BURGER, Chere - Anders 451
HALLION, Denise  - Wervelwind
SEYMOUR, Tanya -  Ramoneur 6
SMITH, Nicole -   Victoria
Ukraine
KISELIOVA, Svetlana -  Parish
KOVSHOV, Maksim -  Flirt
LOGUTENKOVA, Inna  - Don Gregorius 
Photo © Astrid Appels
Related Link
Eurodressage Coverage of the 2014 World Equestrian Games