Dutch Dressage News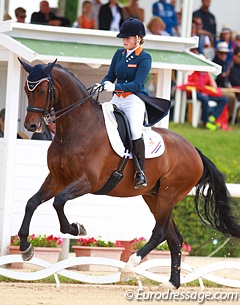 Anne and Lotte Meulendijks' junior riders horse Tom Tom Go died unexpectedly in the field on Wednesday 6 August 2014. The horse was enjoying a short holiday after the 2014 Dutch Dressage Championships.
"He was put in the field this morning and after a while my cousin suddenly noticed that the fence was broken, but the other horses were all standing quietly," Anne Meulendijks told Eurodressage. "He found him dead. We want to have a necropsy done but so far we don't know the cause. We presume a heart attack. This is the worst news we could ever have heard. It's totally unexpected."
The 14-year old Dutch warmblood gelding Tom Tom Go (by Cabochon x Tolbert x Courville xx) was acquired by the Meulendijks family in 2008. The bay gelding was competed up to small tour level by Christa Laarakkers-Larmoyeur.
Anne Meulendijks made her transition from ponies to junior riders' level on the gelding and rode him in combination with Grand Prix schoolmaster Ohio at the time.
Lotte took over the ride on Tom Tom Go in 2013 when she made the transition to junior level. In 2014 the pair won team silver at the 2014 European Junior Riders Championships in Arezzo. At the 2014 Dutch Dressage Championships last weekend in Hoofddorp, they won individual silver.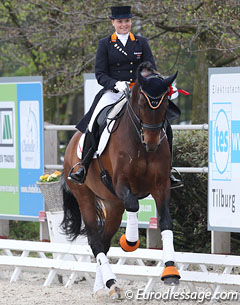 Tom To Go was enjoying a short holiday in the field as Anne and Lotte Meulendijks were on holiday in Turkey, when he died suddenly.
"I will miss him so much," said Anne. "He was such a cheerful, sweet horse who always did his best. He was my first horse, so he'll always have a special place in my heart."
"It's my worst nightmare come true," Lotte added. "He was the sweetest horse I've known and always went through fire for you. I will miss him dearly."
Photos © Astrid Appels
Related Links
Scores: 2014 Dutch Dressage Championships
Germans and Dutch Divide the Gold at 2014 European Junior/Young Riders Championships in Arezzo
Dutch Teams Selected for 2014 European Junior and Young Riders Championships
Scores: 2012 Dutch Dressage Championships