2014 Bundeschampionate Qualifier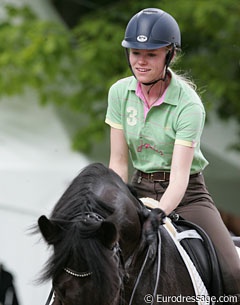 At the regional show in Mönchengladbach on 6 July 2014, the 5-year old Caline B and the 6-year old First Flush were the winners of the L and M-level dressage horse test which served as qualifiers for the 2014 Bundeschampionate Finals in Warendorf, Germany, in September.
In the 5-year old division Susanne Brinkmann-Gerlach led the class aboard Klaus Bussenschutt's Rhinelander mare Caline B (by Castellini x Certus) with a 7.8 score, which did not suffice to qualify for Warendorf. The pair got 8. for walk and trot, 7.5 for canter and submission and 8 for general impression. Christine Nolden and the Rhinelander mare ZN Swing Time (by Sir Donnerhall x Caprimond) were second with 7.6. They got 8 for trot and canter, 7.5 for walk, 7 for submission and 7.5 for general impression.
Annabel Frenzen and the Rhinelander gelding First Flush (by Furst Piccolo x Worldchamp) dominated the 6-year old category with a winning 8.1 score. They got 8.5 for trot, 8 for walk and canter, 7.5 for submission and 8.5 for general impression. Christian Reisch and the Oldenburg gelding Feivel der Mauswanderer (by Fidertanz x Donnerhall)  were second with 7.7. They got 7.5 for trot, canter, submission and general impression and 8.5 for walk.
Results - 2014 Bundeschampionate - Mönchengladbach
5-year olds
1. Caline B (by Castellini / Certus) - Brinkmann-Gerlach,Susanne  - 7.80
2. ZN Swing Time (by Sir Donnerhall I / Caprimond) -Nolden,Christine  - 7.60
3. Bravo (by Belissimo M / Fidermark) -Welbers,Marina  - 7.50
4. Bertolino (by Basic / Florestan I) -Wyen,Franziska  -  7.40
5. Dahlie (by Damon Hill / Sandro Hit) -Frenzen,Annabel  - 7.30
5. Rainbowdancer  (by Rock Forever I / Dimension) -Liebenstein,Wendy  -  7.30
7. Soraya  (by Sarkozy / Rascalino) -Becher,Claudius  -  7.20
8. Rotruschels (by Royal Doruto / Welt Hit II) - Ernst,Tanja  - 7.00
8. Franklin E (by For Compliment / Weltmeyer) - Michalke,Stefan  - 7.00
10. Fly Rio (by Fürst Nymphenburg I / Weltmeyer) - Sigge-Pompe,Alexa  -  6.80
11. Feiner Kerl (by Fürst Piccolo / Dimension) - Wetzler,Charline  - 6.40
11. Sonrisa Divina (by Sir Donnerhall I / Rubinstein I) -Viereck,Lars  - 6.40   
6-year olds
1. First Flush  (by Fürst Piccolo / Worldchamp) - Frenzen,Annabel  - 8.10
2. Feivel der Mauswanderer  (by Fidertanz / Donnerhall) - Reisch,Christian  - 7.70
3. Jakarta  (by Jazz Rubin / Florestan) - Peters,Maria  - 7.40
4. Simsalabim (by Sir Donnerhall I / Fidermark) - Camp,Lydia  - 6.90
5. For Set (by Florianus / Royal of Loh) - Becher,Claudius  - 6.70   
Maddoc (by Kasimir x Lucito) - Camp,Lydia - RET
Related Link
Eurodressage Coverage of the 2014 Bundeschampionate