2014 Bundeschampionate Qualifier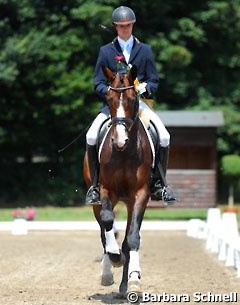 The 5-year old Panorama As and the 6-year old Hollister won the Bundeschampionate qualification classes held at the very well attended and busy Rhinelander Regional Championships in Langenfeld, Germany on 27 - 29 June 2014. The L and M-level test were judged by Eckhard Wemhoner, Klaus Ridder and Hermann Reuver.
The 5-year old division was won by Christian Schulze Tophoff aboard the Westfalian mare Panorama As (by Poleggio x Collin L). The combination scored a total of 8.2 with 8.5 for trot,  for walk, canter, and submission and 8.5 for general impression. Martin Pfeiffer and the chestnut Westfalian stallion Botero (by Biasini) was second with 8.1. This pair got 7.5 for trot, 8 for walk and canter and 8.5 for submission and general impression.
In the M-level dressage horse class for 6-year olds Johanna Klippert topped the leader board on the dark bay Hanoverian gelding Hollister (by Hotline x Don Frederico) with 7.7. Jana Freund and her bright bay Rhinelander mare Cassiopaya (by Cassini Boy Junior x Lanciano) were the runners up with 7.2. She tied in second place with Annabel Frenzen on the Rhinelander gelding First Flush (by Furst Piccolo x Worldchamp).
Results - 2014 Bundeschampionate Qualifier - Langenfeld
5-year olds
1. Panorama As (by Poleggio x Collin L) - Christian Schulze Topphoff - 8.2
2. Botero (by Biasini) - Martin Pfeiffer - 8.1
3. Step Up (by Sir Donnerhall x Ehrentusch) - Annabel Frenzen - 8.0
4. Caline B (by Castellini x Certus) - Susanne Brinkmann Gerlac - 7.8
5. Furst Nymphenburg II (by Florencio x De Niro) - Johanna Klippert - 7.7
5. Rainbowdancer (by Rock Forever x Dimension) - Wendy Liebenstein - 7.7
7. Perspektive As (by Poleggio x Florestan) - Christian Schulze Topphoff - 7.3
7. Franklin E (by For Compliment x Weltmeyer) - Stefan Michalke - 7.3
9. Depiereux B (by Damsey) - Anna von Negri - 7.2
9. Desario (by Dimaggio x Pik Pavarotti) - Kathrin Sudholter - 7.2
11. Big Show (by Borowski x Bordeaux II) - Stefan Wieser - 7.1
11. De Nira (by De Niro x Gribaldi) - Ute Brommel - 7.1
11. Sweet Caroline (by Sir Donnerhall) - Lisa Marie Koch - 7.1
14. Rossini (by Royal Blend x Bolero) -  Charline Wetzler - 6.9
15. Valencia (by Valentino x Graf Top) - Isabelle Bottermann - 6.8
15. Coccinelle (by Kasimir x Tanzmeister) - Nina Blindenbacher - 6.8
15. Finja P (by Flatley) - Eva Julia Knieps - 6.8
15. Dahlie (by Damon Hill x Sandro Hit) - Annabel Frenzen - 6.8
19. ZN Swing Time (by Sir Donnerhall x Caprimond) - Christine Nolden - 6.7
20. Dream of Tomason (by Diamond Hit x Lauries Crusador) - Karin Schulze Topphoff - 6.6
21. Freya (by Fidertanz x Levantos) - Pia Schmitt - 6.5
22. Feiner Kerl (by Furst Piccolo x Dimension) - Charline Wetzler - 6.4
23. Fajana (by Flatley x De Niro) - Tim-Björn Paper - 6.0
Fly Rio (by Furst Nymphenburg x Weltmeyer) - Alexa Sigge Pompe - ELI/RET
Abbotabad CH (by Arpeggio x Carnute) - Stefan Wieser - ELI/RET
6-year olds
1. Hollister (by Hotline x Don Frederico) - Johanna Klippert - 7.7
2. Cassiopaya (by Cassini Boy Junior x Lanciano) - Jana Freund - 7.2
2. First Flush (by Furst Piccolo x Worldchamp) - Annabel Frenzen - 7.2
4. Simsalabim (by Sir Donnerhall x Fidermark) - Lydia Camp - 7.0
5. Lord Lucky (by Lord Loxley x Lancer II) - Janine Ebben - 67.
6. Maddoc (by Kasimir x Lucito) - Lydia Camp - 6.5
7. Jakarta (by Jazz Rubin x Florestan) - Maria Peters - 6.4
Related Link
Eurodressage Coverage of the 2014 Bundeschampionate