British Dressage News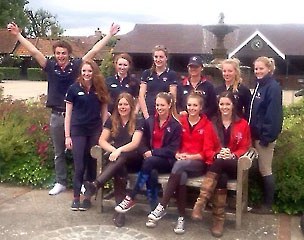 The British junior and young rider team members, selected to compete at the 2014 European Junior/YOung Riders Championships in Arezzo, Italy on 11 - 15 July 2014, held a pre-Euro training camp at Tony and Sarah Pidgley's farm in Windsor on 14 - 15 June 2014 in preparation of the Championships.
Young rider Pippa Hutton sadly had to withdraw from the team as her horse Belmondo was briefly lame at camp. Jessica Knapton and Di Spirito were called up as reserve. Knapton was reserve on the British junior team for Berne in 2012 and was called up onto the team last minute. This is the second time she has made it onto the team via the alternate position.
FEI judge general Stephen Clarke assessed all riders in the team championship and individual test and gave feedback to each rider.
"If we can get near these marks in Italy we will all be very happy," said Islay Auty, who was very pleased with the results of the camp.
"Fleurie and I had a great few days at the pre-european training camp, it was lovely to see all my team mates and was so helpful to have test riding and feedback sessions with Olympic judge Stephen Clarke," said British junior rider Erin Williams. "Thank you to Tony and Sarah for their incredible hospitality at the beautiful Kilbees Farm in Windsor."
Results - Pre Euro Training Camp
Junior Riders
Lottie Fry - Z Flammenco -  72.56% - 74.87%
Maisie Scruton - Hot Chocolate - 71.75% -  71.84%
Jessica Gale - Umbro S - 70.67% - 70.26%
Erin Williams - Fleurie - 70.67% - 72.37%
Becky Edwards - Ufano -  68.91%- 71.05%
Joanna Thurman Baker - San Piko -  68.78% -  68.03%
Young Riders
Ryan Todd - Charles Eskebjerg - 72.89% - 72.24%
Jessica Knapton - Di Spirito - 72.36% - 71.18%
Olivia Oakeley - Donna Summer - 71.44% - 72.37%
Samantha Thurman Baker - Highcliffe Apollo -  68.42% - 69.47%
Gaby Lucas - Laurentius - 70.39% - 70.26%
Related Links
Eurodressage Coverage of the 2014 European Junior/Young Riders Championships
British Teams Selected for 2014 European Junior and Young Riders Championships