2014 World Championships for Young Dressage Horses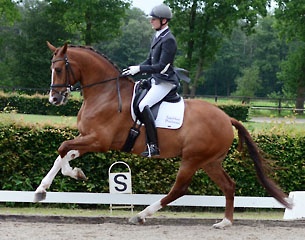 All twenty-one horses long-listed for the Dutch team selection for the 2014 World Young Horse Championships are still in the running for a team spot following a third selection and observation trial held at the KNHS head quarters in Ermelo, The Netherlands, on Monday 16 June 2014.
Eleven 5-year olds and ten 6-year olds had to each ride a test in front of the selection committee (Wim Ernes, Johan Hamminga and Gert van den Hoorn), after which they received individual training from Hamminga.
All twenty-one horses are still in the running. The third training will take place on Tuesday 8 July in Ermelo. The final training is on 23 July.
The long-listed 5-year olds:
El Capone (UB 40 x OO Seven – Marieke van der Putten
Eye Catcher (Vivaldi x TCN Partout) – Cora Verlouw
Happy Feet (Don Jovi x Krack C) – Katia Smets
Equirelle W (Florett Ass x Donnerhall) – Kyra Klinkers
Eddieni (Johnson x Negro) – Theo Hanzon
Elton John DVB (Jazz x Fidermark) – Stefanie Wolf
Esperance (Sorento x Rousseau) – Maria Brouwer
Expression (Vivaldi x Vincent) – Diederik van Silfhout
Etoile (Don Schufro x Rubinstein I) – Dinja van Liere (foto)
Estoril (Zhivago x Gribaldi) – Emmelie Scholtens
Ebony (Painted Black x Jazz) – Vai Bruntink
The long-listed 6-year olds:
D'Angelo (Zucchero x Sandro Hit) – Theo Hanzon
Denzel (Santano x Ferro) – Alex van Silfhout
Dream Boy (Vivaldi x Ferro) – Gerdine Maree
Dorado (Krack C x Rousseau) – Emmelie Scholtens
Darabel (Westpoint x Don Schufro) – Vai Bruntink
Denzel (Zidane x Truppa) – Dinja van Liere
Desperado (Vivaldi x Havidoff) – Emmelie Scholtens
Don Diego (Lord Leatherdale x Krack C) – Patrick van der Meer
Doraya (Westenwind x Jazz) – Stephanie de Frel
Dancer (Vivaldi x Tango) – Kirsten Brouwer
Denzel B (Jazz x Castro) – Marije Tromp
Photo © KWPN
Related Link
Eurodressage Coverage of the 2014 World Young Horse Championships