American Dressage News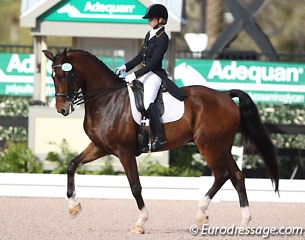 The United States Equestrian Federation and team trainer Robert Dover announced the eight riders that have been short listed for the U.S. World Equestrian Games team and that will travel to Belgium to begin the pre-WEG training camp and euro competition tour.
The 8 selected riders were picked based on their performances at the 2014 U.S. Dressage Championships in Gladstone, NJ, last weekend, which served as official WEG selection trial. The top eight finishers in the overall ranking qualified for Europe.
The short listed riders will fly to Amsterdam on 18 June 2014 and then be trailered to equestrian centre De Begijnhoeve in Retie, Belgium, where they will have their base leading up to the 2014 World Equestrian Games in Normandy at the end of August.
2014 U.S. Champion Steffen Peters and reserve champion Laura Graves will only have to compete in one European show for team selection, while the other short listed riders have to compete at two events, the CDI Fritzens in Austria and the CDIO Aachen in Germany.
The U.S. WEG team short listed riders are:
Steffen Peters - Legolas
Laura Graves - Verdades
Jan Ebeling - Rafalca
Adriene Lyle - Wizard
Tina Konyot - Calecto V
Caroline Roffman - Her Highness O
Shelly Francis - Doktor
Lisa Wilcox - Denzello
Steffen Peters will also be bringing his small tour horse Rosamunde to Europe, while Katherine Bateson-Chandler and Wellnetta will go to Europe on a private basis and will be based at her coach Carl Hester's yard in Great Britain.
Photo © Astrid Appels
Related Links
Peters Scores Double National Title, Sadis Pony Champion at 2014 U.S. Championships
U.S. Team Holds Pre-WEG Training Camp at De Begijnhoeve in Belgium